A few months ago, Michelle from Factotum Of Arts emailed me asking if I'd like to join as a guest blogger for her Colour blog series. I was deeply honoured, because I don't consider myself to be a colour expert. In fact, I'm sure there will be some out there who will cringe at spotting a fabric in the wrong place in the stacks or something like that, but you know what? That's fine. Because while I'm not expert, I do love colour. Absolutely LOVE colour. It's one thing I've really noticed having moved back to Australia – the colour of the skies are so deep! Whether it's the beautiful clear blue skies with fluffy white clouds of spring, or the ominous dark grey clouds currently in the sky, it's just so rich. Ditto for the colour of nature. Ohhh I was not made for the concrete jungle of Tokyo!
But enough of that, I'm here to talk to you about pink fabric. I love pink. I'm not the girliest of girls at all, but I love pink, I just do.  I currently have 3 tops that are all about the same shade of pink, and recently bought a clutch at an op shop just because it's the same shade, and accidentally chose a nail polish for a manicure a couple of weeks ago that turned out to match all of the above. So, I clearly have a thing for a certain shade of pink… but what is it?!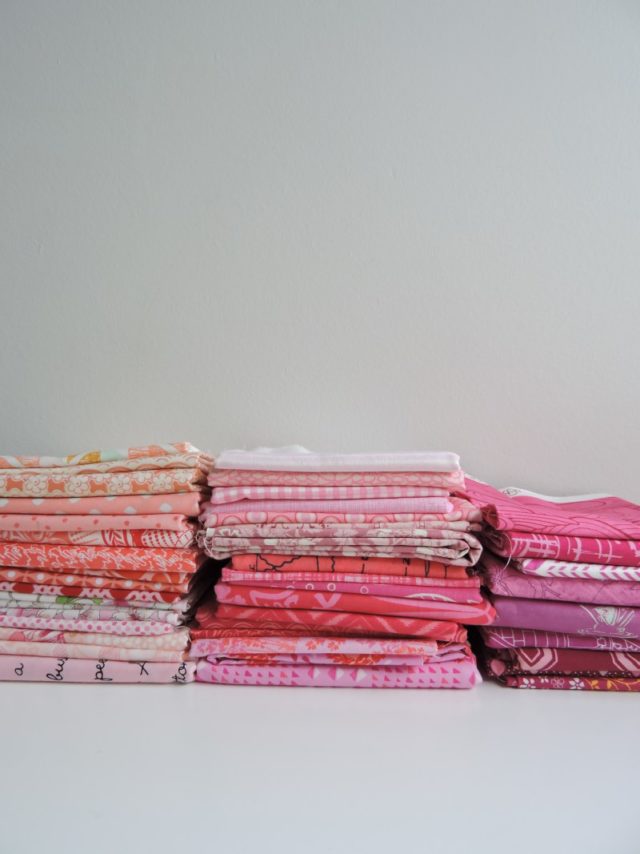 Here's how I organise my pink stash. Roughly grouped into each different shade of pink, from light to saturated. The pretties are pulled out whenever I'm making something a bit scrappy and/or looking for a particular colour and/or a certain print pattern for paper piecing. Mostly fat quarters, some larger, a few smaller. And when I had reorganised them, I realised something – there's three distinct groups here.
Pink falls between red and purple on a colour wheel. So pinks can be either warmer or cooler, depending on which end they're at. Warm pinks are often a lot softer, like the pastels and pale pinks often used for babies like the prints on the right.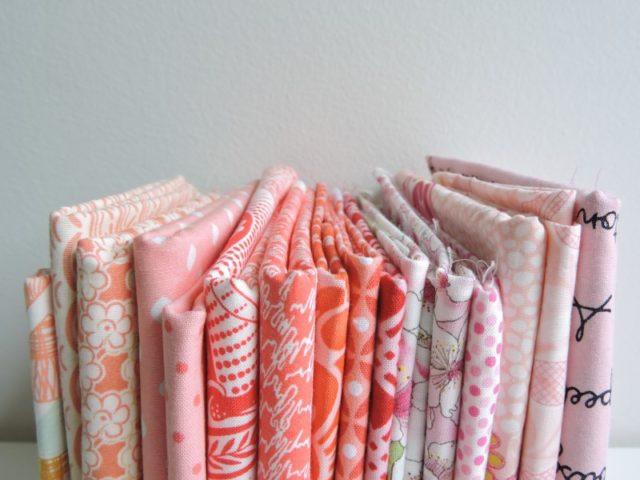 But pink can also be a little red/orange like in the middle and towards the left. These pinks can also be called peach or coral*, and are definitely a lot warmer than pinks in the next group of fabrics.
*spoiler alert – it seems coral is the magic colour for me
As the pinks start to cool off, that's when you start to get the hot pinks and the fuchsias of the world. Fun fact: fuchsia used to be my favourite colour when I was a teenager. Partly because of the flower, partly because of the colour. And partly because it's a pretty cool word to spell and say… Anyways, back to fabric. I like to think of these pinks as the Barbies of the fabric world, as they're usually quite saturated and bright. Even in a less-saturated print, they're bright and eye-catching. The extroverts, if you will.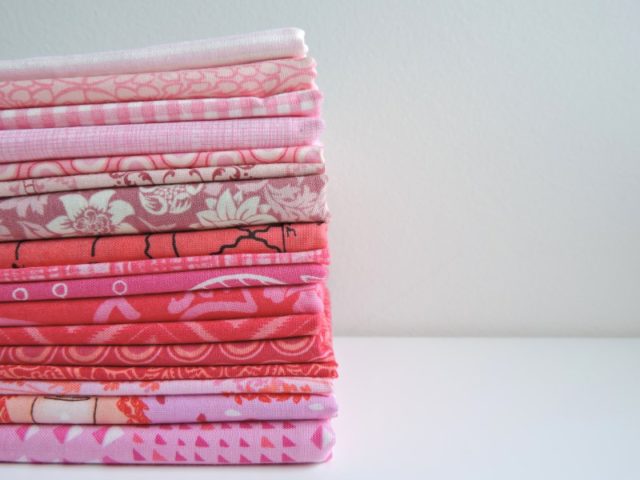 And then we reach the moody pinks of the fabric world, where they don't quite know what they are they're practically purple. Put them next to pinks, and they're purple. But put them next to a true purple, and they look pink. These guys are saturated, very rich and deep and luxurious in tone.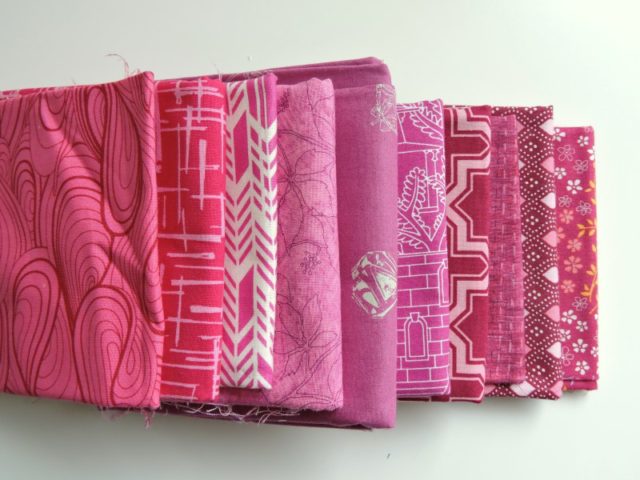 Now would be the time where I might have some deep and meaningful takeaway point about using pink in quilting, but instead, I'm going to encourage you to have a play with your pink bits too. See if you can work out what ones are more warm, which ones are cooler, and which ones just can't decide what colour they are. It might just help you work out which type of pink your next project needs!