Molli is the fabulous guest designer for the tenth block for the Modern HST Sampler QAL. If you need more information, you can find out more about:
Hey you Blossom Heart Quilters! This is Molli Sparkles, checking in with my contribution to the Modern HST Sampler. A big thank you to Alyce for organising such a fun and educational quilt project. I've never made HSTs more than two at a time, so I've been able to add a few notions to my potions as well. The block I designed for this month is rather simple by itself, but when repeated, will create a diagonal faceted stripe. Try using a solid colour combined with a neutral for a minimalist modern approach, or with proper planning you can create a rainbow cascading across your quilt. If you want to add a bit of sauce (and you know how I like it saucy!) throw in your tone-on-tone prints for the foreground, and your low volumes in the background, and you'll have people captivated for days!
You can also find me at:
Instagram | Facebook | Blog

Faceted Stripe by Molli Sparkles
Fabric Requirements
Fabric A (Pink)
1 – 7 3/4" x 7 3/4" square
Background (White)
1 – 7 3/4" x 7 3/4" square
8 – 3.5" x 3.5" squares
Block finishes at 12.5" x 12.5". Use a 1/4″ seam and press seams toward the darker print, or as directed.
Instructions
Step 1. Use the 7 3/4" squares of Fabric A and Background fabric to make 8 HSTs. Open the HSTs and press the seam towards the print or darker fabric colour. Trim to 3.5" square.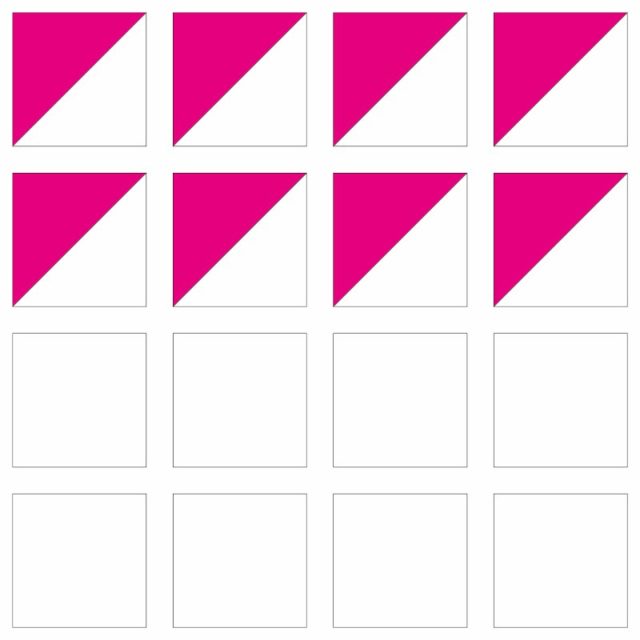 Step 2. Arrange the HST units from step 1 and the remaining background pieces to create the block.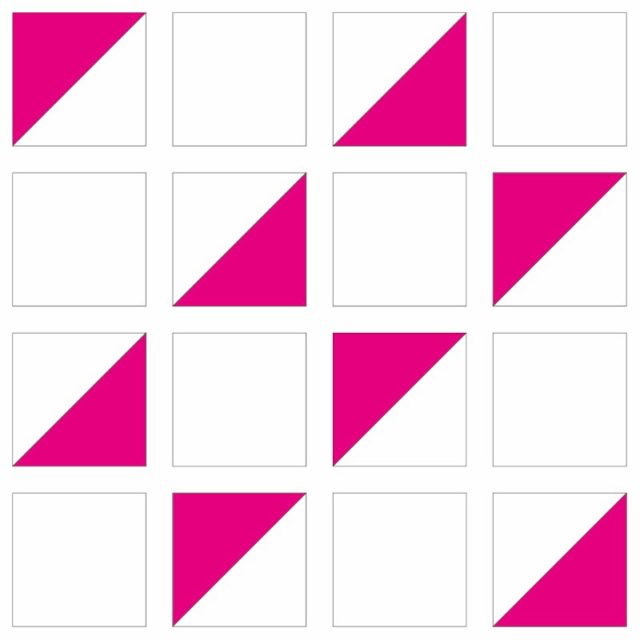 Step 3. Sew into four columns. Press all seams from alternating columns in opposing directions so that they will nest.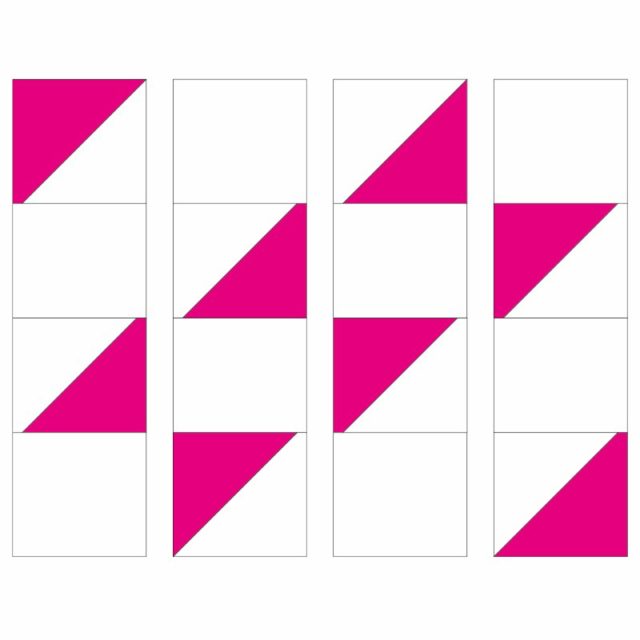 Step 4. Sew the first two columns together. Press seam to either side.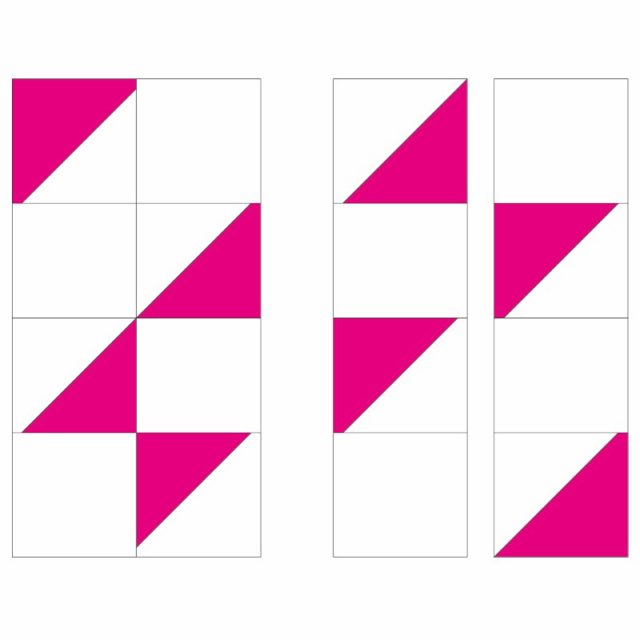 Step 5. Sew the next two columns together. Press seam to either side.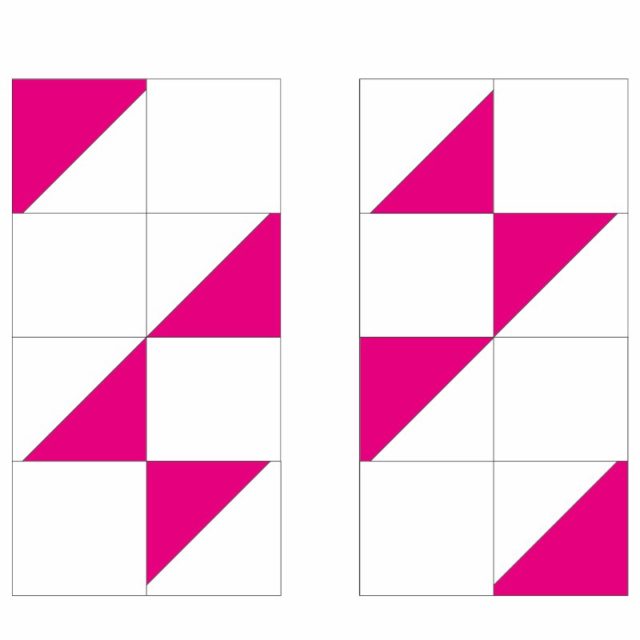 Step 6. Sew two halves together. Press seam to either side.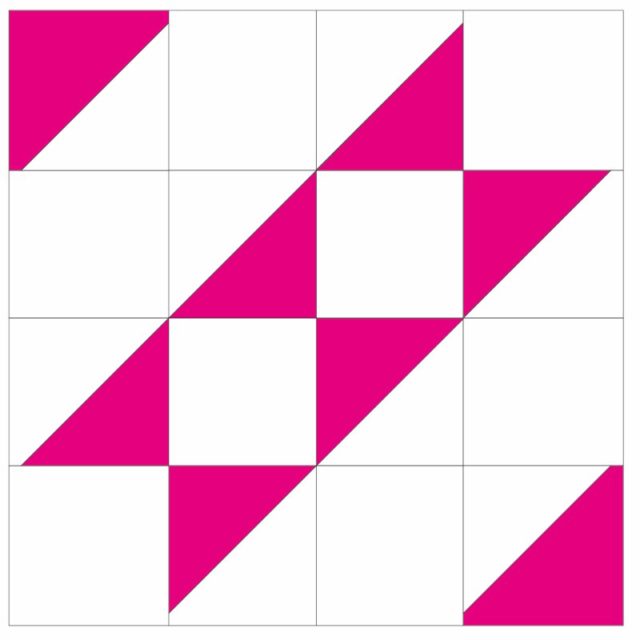 Step 7. Press the block, and trim to 12.5" square if necessary, keeping 1/4″ between the outer HST points and the edge of the block.
Alyce's Block
This was a fun one to make, so quick and easy! Thanks, Molli! I know some people have been struggling with bulky seams with the larger amount of seams in these blocks, so one alternative for something like this where background squares and HSTs alternate going down the columns is to press all seams towards the squares. That way the HST seams aren't adding anymore bulk than necessary to the block.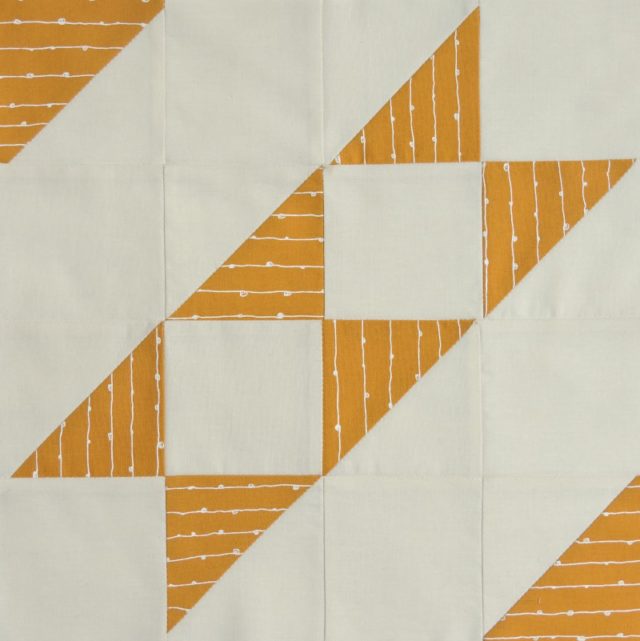 Fabrics used from the Modern HST Sampler Kit:
Blueberry Park Yarrow Strand , Kona Oyster
I hope you enjoy making this one too! You can share them on Instagram using #modernHSTsampler (and feel free to tag us too – @blossomheartquilts and @mollisparkles), or in the Blossom Heart Quilts group on Facebook, or even link them up to Sew Cute Tuesday. If you have any questions, please don't hesitate to ask in the comments.
Click here for all the Modern HST Sampler quilt block tutorials