If you're wondering where the next installment of the Modern HST Sampler is, you're going to have to wait an extra week as May has five Mondays! Instead, let me share a different kind of triangle project I've been working on for the past few weeks.
Fat Quarter Shop and Camille Roskelley have teamed up to bring you the Little Ruby quilt pattern. It uses 2.5″ strips, or a jelly roll or two, plus the new Creative Grids 60 degree Double Strip Ruler and the Creative Grids Hexagon Trim Tool. Fat Quarter Shop asked if I'd like to join the quilt along, and once I saw the pattern, I jumped on board. You see, the pattern makes two quilts from all the triangles you cut to make the hexagons. Above, you can see quilt A. But it was quilt B that captured my attention…
The first step of any project is choosing the fabric. Now, the Little Ruby quilt pattern makes a decent-sized quilt, at 65″ x 72″, and uses two jelly rolls. And you can even buy a Little Ruby quilt kit if you love the original quilt! But I didn't have any need for a quilt that big at the moment, especially in the middle of moving, so I decided to see what happened when I used just one jelly roll. Just about any quilt can be made smaller (or bigger), especially those made from repeating block units like Little Ruby. In this case, it was a matter of working out how to achieve a balanced looking quilt top, which I'll share later on when I show my quilt. Here's the official video about the pattern and getting started – I love Fat Quarter Shop's videos, always so beautifully produced!
My Quilt
So. Fabric. Considering that I've been having a mild obsessive love affair with Blueberry Park, I decided to have a play with the Bright colourway jelly roll. It includes 40 strips and a gorgeous range of colours! I have been loving the Kona Oyster from my Modern HST Sampler quilt, so I decided to go with that again, and use it for both the triangles and the background, instead of using two colours like in the pattern. Instead of buying a solid jelly roll, I bought enough yardage to cut it up myself as it's much cheaper! And indeed, I got cutting – 2.5″ strips for my DIY jelly roll, and the strips for the half hexagons (I needed 4 strips) and the triangles (2 strips).
The half hexagons were very quick and simple – stack and whack! Stack a couple of strips neatly, and slice away. The trick to remember is to align the bottom of the strip on the solid line under the dotted line along the middle.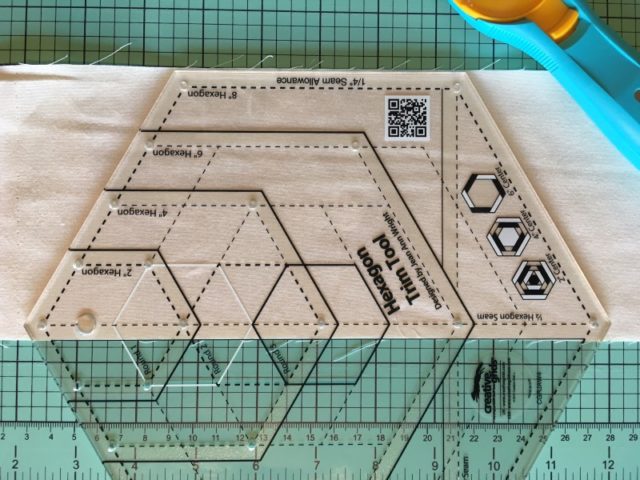 The triangles were a little slower with more to cut along each section, but the ruler is very cleverly made.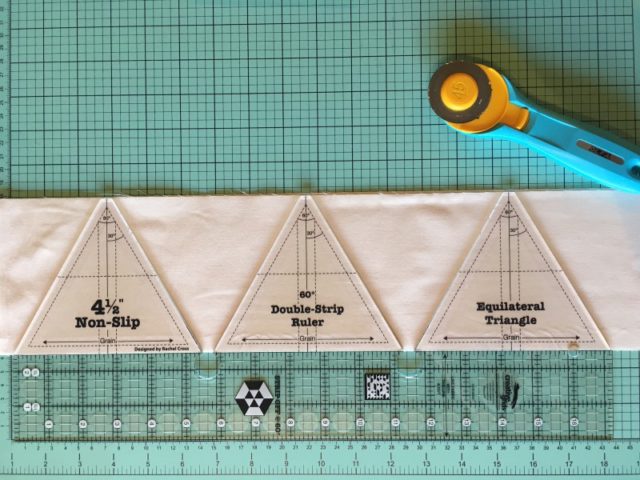 You see the little circular cut outs at the base of each triangle? That's the space for your rotary cutter so it can cut right to the end! Warning – if you hate the sound and feel of metal scraping on plastic like I do, you will need to be prepared for the occasional overly-enthusiastic slice that bumps into the ruler *CRINGE* I also found it easiest to stand at the short end and cut "up" and away from me (the photos above are just rotated to fit more nicely into the blog post, but I was standing "portrait" to the mat).
And with all that cutting done, I was ready to start piecing. And piecing, and piecing. Which I'll share about in my next post! To see how everyone else sewing along has gotten started, check them out:
Melissa from Happy Quilting
Angie from Gnome Angel
Erin Cox from Why Not Sew
Andy from A Bright Corner
Heidi from Buttons & Butterflies
Pat from Pat Sloan
Peta from She Quilts a Lot
Heather from Quilt Story
Megan from Quilt Story
Amanda from Jedi Craft Girl
Gerri from Planted Seed Designs
Sherri from A Quilting Life
Rebecca from Bryan House Quilts
Sherri from This & That Patterns
Jemima from Tied with a Ribbon
Alyce from Blossom Heart Quilts
Stephanie from Modern Sewciety
Brooke from Silly Mama Quilts
Carrie from Moda's United Notions
Fat Quarter Shop is a blog sponsor. I was provided with store credit to purchase supplies, and gifted the rulers. All opinions are 100% my own.