Melissa is the fabulous guest design for the sixth block for the Modern HST Sampler QAL. If you need more information, you can find out more about:
Hi!  My name is Melissa, AKA Ms Midge, and I quilt blog over at msmidge.com.au.  I've been sewing for what seems like forever, and quilting about five years now.  When my lovely friend Alyce asked if I'd like to be involved in the Modern HST Sampler, I jumped at the chance!  I mean, apart from actually making HST's, I love everything about them 😉  When it came to designing my first block, I just sat and played with the different combinations of triangles, and came up with something really simple, that can also be really effective!  I'm calling it "Formation".
When choosing fabrics for this block, try and find some strong contrast between prints.  As you will see with mine, I've gone complete contrast – with a textured white print and a divine Chartreuse (am I the only one who loves saying Chartreuse?).   I also chose to use the strip method of making HST's, because there's an odd number of them in this block and I hate wastage!  It's the first time I've used this method and I have to say – it's super quick and easy, and gives you the perfect HST! I hope you enjoy making it!
Instagram | Facebook | Pinterest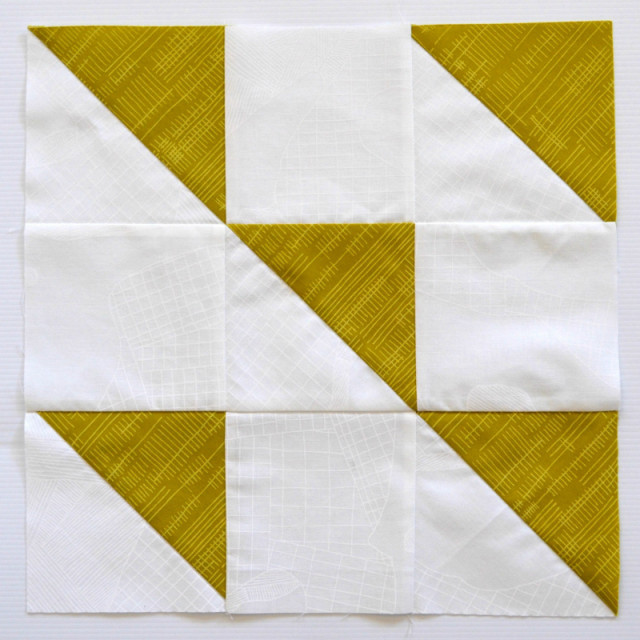 Formation by Ms Midge
Fabric Requirements
Fabric A Chartreuse
1 – 20" x 3 ¾" strip
Fabric B White
1 – 20" x 3 ¾" strip
4 – 4.5" x 4.5" squares
Block should measure 12.5" x 12.5". Use a 1/4″ seam and press seams toward the darker print, or as directed.
Instructions
Step 1. Use the 20" strips of fabric A and B to make five HST's using the strip method, cutting them at 4.5″. Open the HSTs and press the seam towards the dark side. Trim to 4.5" square. (Although I would say that the only thing I needed to trim using this method was the little dog's ears, they were perfect size using this method!)
Step 2. Arrange the HST units from step 1 and the remaining square pieces to create the block.  I nested my seams as they fell, that is, towards the square blocks.  This can give your block flatter seams.
Step 3. Press the block, and trim to 12.5" square if necessary, keeping 1/4″ between the outer HST points and the edge of the block.
Alyce's Block
I made my HSTs a little differently by making four and two, and saving the spare for later just in case. So feel free to choose whichever method you like – learn something new (which will also have your pattern going the same way if you're using stripes, for example!) or use methods you already know. That's the beauty of this QAL where you make it work for what you want!
Fabrics used from the Modern HST Sampler Kit:
Blueberry Park Navy Strand, Kona Oyster

You can always interchange the methods to work better for your fabric or preferred methods. Be aware that if you're using the kit, the fabric was calculated to use the recommended methods. You should be ok to interchange occasionally, but just be aware of this factor.
Quarterly Link Up
Next Monday, I'll be putting up a linky post for you to share your progress for the first quarter of the Modern HST Sampler QAL! There are some amazing prizes in line for some lucky, lucky people, so get your triangles together, folks, because there's one particularly spectacular prize to go to someone who has finished all 6 blocks released so far! And if you haven't finished them all yet, that's still totally fine. We still want to see them, and the rest of the prizes are still very special. And if you're starting to freak out at what "linky" means, fear not, all you need is a photo and an email address – I'll be sharing a separate post next Monday that will show you step-by-step how to add your photo to a "linky", whether you're just uploading a photo, sharing from Instagram, or from your own blog post. And of course, you can always share your blocks on Instagram using #modernhstsampler (I'm @blossomheartquilts), or join the Facebook group!