I originally sat down to write a short article on this topic for my weekly newsletter, which is where I tend to write more personally about quilting. However, it grew too long to be contained to just an email! So instead, it became a blog post.
There have been so many posts and comments already shared and made about QuiltCon, that I didn't feel I had too much more to add. There had been something floating around at the back of my mind when I was walking the show floor(s!), but I didn't think too much further about it until I happened upon this post from Katie's Quilting Corner about some questions she had about QuiltCon. Now, as one of the commenter's said, there's always going to be a little controversy about the quilt that wins Best Of Show. So I'm not going to comment on whether the winning quilt was worth it or not, but rather, what do the quilts at QuiltCon portray as to "what is modern quilting"? And how does that play into whether the judges should have access to the backstory?
Modern quilting as an art statement.
One would hope that the quilts shown at QuiltCon would be amongst the best of what the modern quilting movement has to offer. Which means it comes back, as always, to the age old question of, "What is modern quilting?" If you were to define it by what is shown at QuiltCon, you would think that modern quilts are making an artistic statement. That they range in sizes, but all have something fascinating or intriguing or different visually about them. And that perhaps prints are soooo 2015* (there was a much larger range of solids quilts there compared to QuiltCon 2015)!
*tongue in cheek
So to continue the thought about the judges having access to the backstory, if the point of QuiltCon is to present modern quilts that make artistic statements, shouldn't the quilts then should stand for themselves? The quilt itself shouldn't need lots of words to explain it, so therefore judges should only have access to the quilt when making their decision. Ok, and possibly the title, as that can be the last piece of the statement story.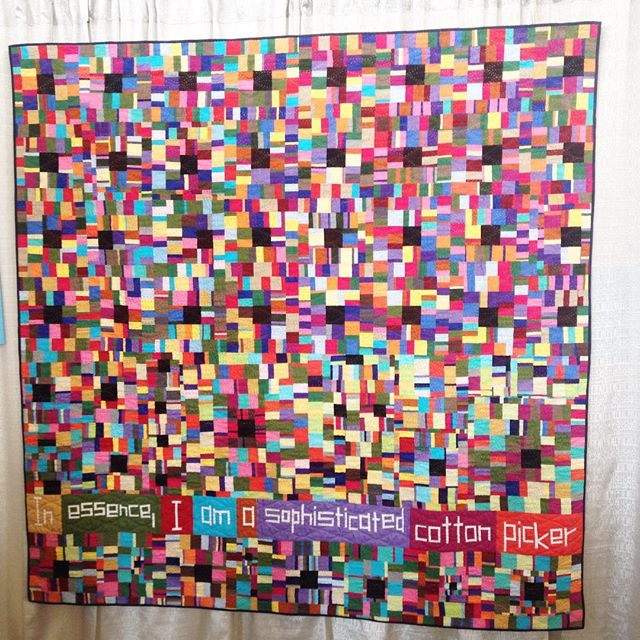 Cotton Sophisticate by Chawne Kimber, @cauchycomplete
But that detail of how it was made or why is provided. We, the viewers, have access to that information when we walk the show and enjoy and assess the quilts. We have the ability to connect to the story, to understand how and why the quilt was constructed the way it was. We are able to learn from and fully appreciate the quilt. The story of how and why is always a part of a quilt, whether it's made with love for a new baby, or to indulge our child's love of pink and mermaids, or to show how much we love a friend or family member. Quilts are not just about art, they're about the heart!
Modern quilting as making beautiful, functional quilts.
The very first sentence used on the Modern Quilt Guild website under the heading, "What is modern quilting?" states that, 'Modern quilts are primarily functional and inspired by modern design.' But, what is functional? Generally, it would be accepted that a "functional quilt" means that it can and will be used on a bed or sofa. After all, that's what "quilt" means, right? A warm covering? This would imply that any quilt that is of a bed-sized size should be usable as a bed quilt – both in a technical sense that it would stand up to the wear and tear of a bed quilt, and also practically in that it is made from materials that would make it a good bed quilt.
There has been a bit of discussion around the internet and social media lately about the size of quilts.  Many quilts that we have seen on blogs or Instagram that were then also hanging at QuiltCon certainly seemed smaller in real life than you might've imagined. But why is that an issue? I think there is a valid place for smaller quilts that are just as functional as art on the wall, or turned into a pillow for the sofa, or even in pride of place as a table topper! That is just as equally valid in terms of describing the functionality of a product.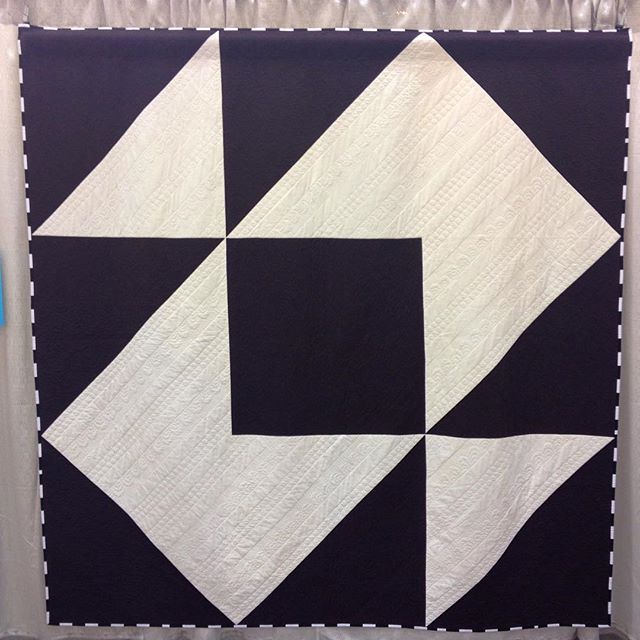 A huge quilt! 'Overwhelming Unknown' by Matt Macomber (@odditease)
As to the functionality of the bed-sized quilts hanging at QuiltCon? Well… technically speaking, they were definitely of high quality workmanship. Will they ever practically be used on a bed? Maybe some of them, but many of them, I'm pretty sure won't. I mean, I don't know that I could hand over an award-winning quilt to get loved to death on a bed or sofa myself!  But how does that play into the very first statement about what is modern quilting? Is that still a valid statement to make to define modern quilting, if the quilts that are shown at QuiltCon as being a great example of modern quilting, aren't 100% functional in the manner that one would expect quilts to be functional? I think that this year, we should be entering quilts with no white (hello stains), machine bound (hello washing machine), and backed in minky (hello cuddly!) – I'd use light green because that would mean my son would happily claim it afterwards. Now that would be a functional quilt!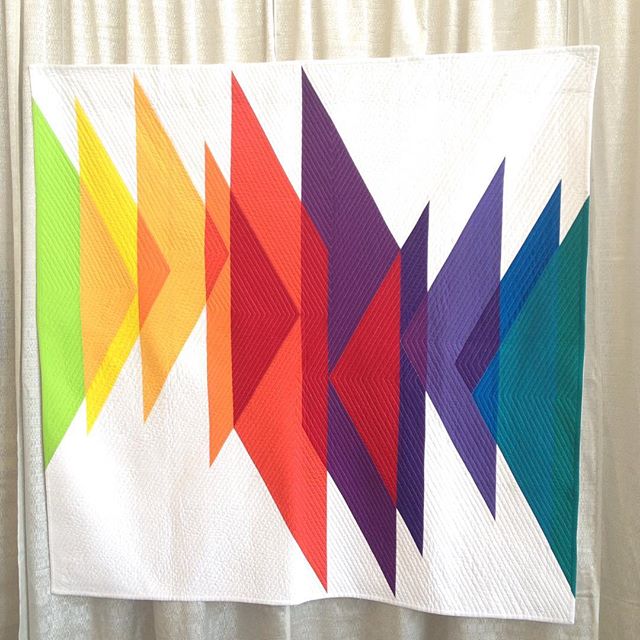 Color Study triangles by Erika Mulvenna, @Erika.Mulvenna
It all comes down to semantics, doesn't it? If you were to say "quilt" to any non-quilter, they would automatically think of something to put on your bed or sofa to be used as a covering to keep warm. Technically speaking though, a quilt is anything with three (or more) layers held together with stitching, and thus isn't limited to any preconceived notions of size. Again, if you were to say "functional" to anyone, they would assume you meant that the object could be practically used, that it is useful. However, functional can also mean having a special purpose, that it can be used for what it was designed for, hence why quilts can be functional as wall-hangings, etc.
I certainly don't claim to have any answers to these questions, but I do believe it is important for us to think about these things if you claim to be a 'modern quilter' – what is modern quilting for you, especially in light of how the Modern Quilt Guild defines it?