Today we have our first guest designer for the year! Keera is bringing the fourth block for the Modern HST Sampler QAL. If you need more information, you can find out more about:
Keera is cattle farmer's wife, mother to two beautiful girls, quilter, designer and teacher for LIVE.LOVE.SEW Pattern Co. She sets out to design and share her patterns, drawing inspiration from the place and space around her; her beautiful home in rural Australia and the colour and pattern of gorgeous modern and contemporary fabrics. Keera's patterns are designed to give quilters the skills to make something truly beautiful and to help share their own story.
You can also find Keera at:
Instagram | Facebook | Pinterest | Twitter
Stepping Stones was created, and based on the idea of a leading path. Each piece in this block provides direction and, grouped together, make for a really fun ladder effect.
Picking a colour palette is my favourite part of the design process; so many of my patterns utilise pre-cut pieces of entire fabric collections – whilst I love that each piece coordinates, it is also so fulfilling pulling out your fabric stash and auditioning prints. I usually turn to Pinterest and a fantastic site, Design Seeds, for my colour inspiration. There is a wealth of talent out there, and by picking a ready-made colour palette you can be sure your fabrics will work together and your colours remain cohesive. Another fabulous resource is Jessica's Color Almanac. This e-book is great value for money with so many beautiful colour concepts and palettes built from stunning photography.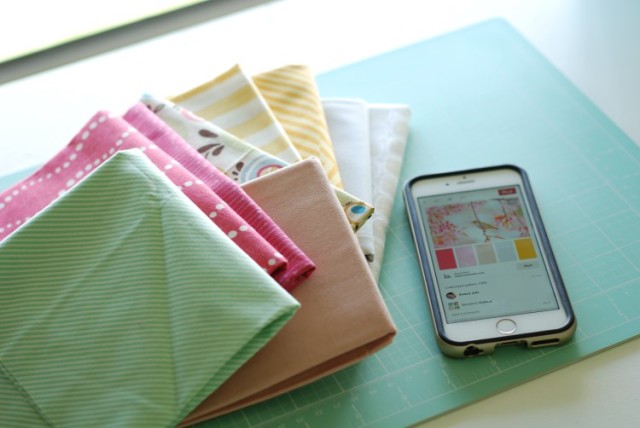 For my block, and my version of the Modern HST quilt I'm going with a colour palette I wouldn't normally pick. I love that two colours, rarely seen together star in this selection and am so excited to work with a mix of bold prints, softer tones and lower volume fabrics. The Stepping Stones block is made with only one print and one background fabric and using the 8 at a time method. This is such a versatile block, and a second or third colourway could easily be added.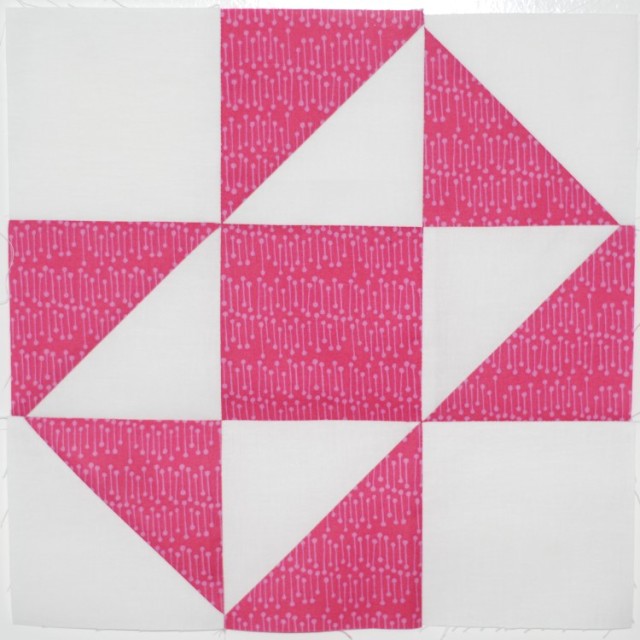 Stepping Stones by Keera Job of LIVE.LOVE.SEW
Fabric Requirements
Fabric A (Fuchsia)
1 – 9.75" x 9.75" square
1 – 4.5" x 4.5" square
Background (White)
1 – 9.75" x 9.75" square
2 – 4.5" x 4.5" square
Block should measure 12.5" x 12.5". Use a 1/4″ seam and press seams toward the darker print, or as directed.
Instructions
Step 1. Use the 9.75" Fabric A and Background squares to make eight HSTs with the 8-at-a-time Method. Open the HSTs and press the seam towards the print. Trim to 4.5" square.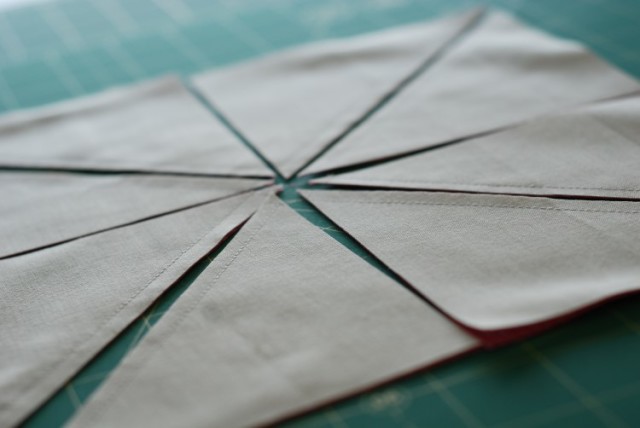 Step 2. To assemble the block take 6 HST units, and the remaining 4.5" square pieces: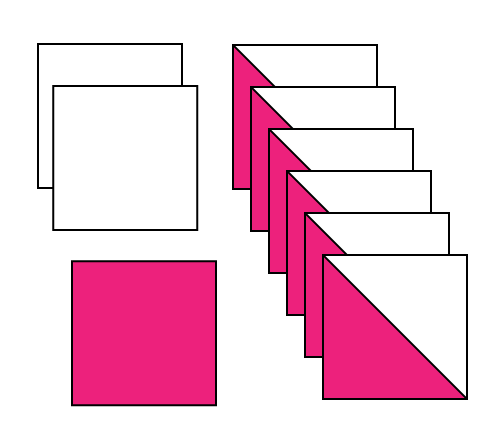 Step 3. Lay out the pieces in the following block layout. Join the block in rows, pressing seams in each row in alternate directions in order to nest seams and reduce bulk. Join each row to complete the block.
Step 4. Press the finished block, and trim to 12.5" square if necessary, keeping 1/4″ between the outer HST points and the edge of the block.
Alyce's Block
I'll try to avoid saying this about every block, but Stepping Stones sure is a beautiful design! It's the kind of block that looks great used on its own across a whole quilt top, especially if you rotate every second one. I decided to use a different print for my centre square with a lighter pink compared to the dark pink HSTs (which read a little red here).
Fabrics used from the Modern HST Sampler Kit:
Rhoda Ruth Petal Southwest Key, Essentials Pink Illusion, Kona Oyster
Now that you know the three main ways to create HSTs, you can either use Keera's recommended method of making eight half-squares at a time (and keep the spares! You might use them later down the track!), or if your fabric doesn't allow for the large squares to be cut, make four HSTs + two HSTs that finish at 4″, or make three lots of the standard 2 HSTs!
You can always interchange the methods to work better for your fabric or preferred methods. Be aware that if you're using the kit, the fabric was calculated to use the recommended methods. You should be ok to interchange occasionally, but just be aware of this factor.