Time for the third block of the Modern HST Sampler! By the end of the year, you will not only have made 24 blocks in total, and thus a beautiful sampler quilt, but you will have some well-honed HST making skills. If you need more information, you can find out more about:
This quilt along is structured so that you will slowly ease your way into half-square triangles. We're starting off with 4″ finished HSTs (4.5″ unfinished) – they're nice and big, and are used in nine-patch blocks to make a 12″ finished block (12.5″ unfinished). This means few seams, and thus keeping your HST points is much easier.
The quilt along is also structured to ingrain this info into your head. The first three block tutorials will cover the three ways of making HSTs we will be using for the year – the traditional 2 at a time, the alternative 4 at a time, and the magic 8 at a time. After that, we will tell you what squares to use together and how many HSTs to make from them. Don't worry, I will link back to the relevant tutorial! But you know what they say, give a man a quilt and he'll be warm for a while, teach him how to quilt and he'll be warm for a lifetime… or something like that, anyway. And with that, let's get into it!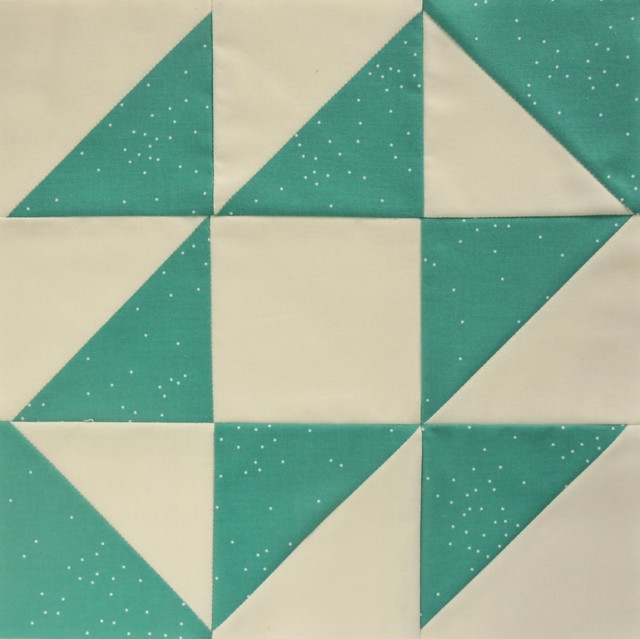 Fabrics used from the Modern HST Sampler Kit:
Cotton + Steel Basics Turquoise Sprinkles, Kona Oyster
This block is traditionally known as Cat's Cradle, but especially when made in green, it reminds me a little bit of the Green Lantern symbol! So that's what we're using.
Lantern
Fabric Requirements
Fabric A
1 – 10″ x 10″ square
Background
1 – 4.5″ x 4.5″ square
1 – 10″ x 10″ square
Block should measure 12.5" x 12.5". Use a 1/4″ seam and press seams toward the darker print, or as directed.
Instructions
Step 1. Place your squares of fabric right sides together. (1) Draw two lines, along the diagonals of the square. You may wish to pin your squares together at this stage as they're large squares! (2) Sew 1/4″ away from the line on both sides of each line. (3) Cut along the drawn lines, and then again along the vertical and horizontal halfway lines. (4) Press towards the print, and trim to 4.5″ square.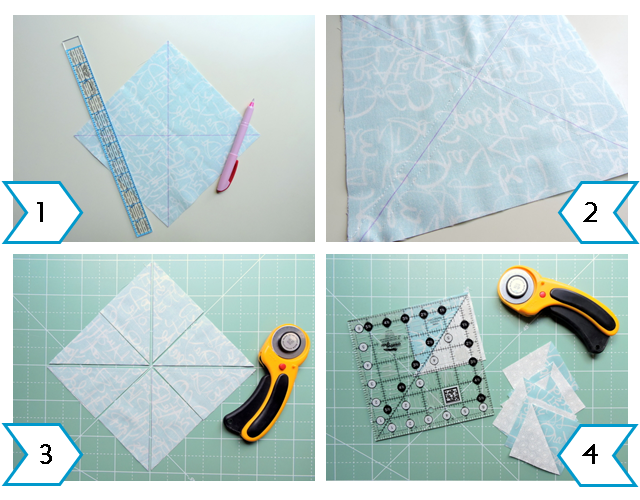 Step 2. Arrange the HST units from step 1 and the remaining background square to form the block. Sew the rows together, pressing the seams in alternate directions. Sew the block together, press the seams towards the centre row.
Step 3. Press the block, and trim to 12.5" square if necessary, keeping 1/4″ between the outer HST points and the edge of the block.
If you have any questions, let me know in the comments.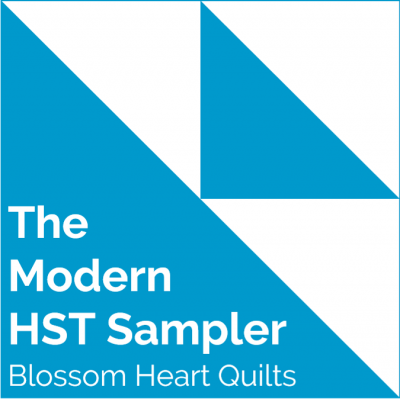 I can't wait to see your first blocks! You can share them on Instagram using #modernHSTsampler (and feel free to tag me too – @blossomheartquilts!), or in the Blossom Heart Quilts group on Facebook, or even link them up to Sew Cute Tuesday. If you have any questions, please don't hesitate to ask in the comments.
Click here for all the Modern HST Sampler quilt block tutorials