A few weeks ago, I finally got a new machine – a Brother Nouvelle 470. That's the Japanese model name, I've also seen it referred to as the Brother Nouvelle 1500S or PQ1500SL in the USA, and the Brother PQ-1500S in Australia. Whatever you call it, it's got the same amaaaazing features, some of which I hadn't realised until unpacking the box, ha!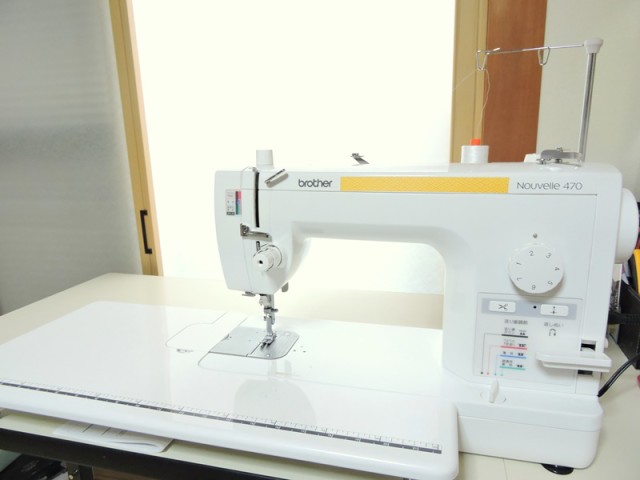 And yes, I added some of my favourite golden yellow washi tape to jazz my machine up a little. Not permanent, not going to leave sticky residue behind, easily changed when the mood strikes!
Brother Nouvelle 470 Features
I used to sew on an Elna 1000 – the most basic, entry-level Elna machine available at Spotlight four years ago, that cost me $100 on sale. So when I compare being able to zigzag and make buttonholes, to features like:
1500 stitches per minute
automatic thread cutter
needle down option
needle threader (haven't got the hang of that yet)
knee-lift (which I didn't realised until I pulled it out of the box!)
extension table
adjustable presser foot pressure
in-built thread stand
automatic bobbin winder cut off (you still operate it, but it stops itself when it's full)
so. many. feet. options!
…. well, you could say I'm a little bit of a kid in a candy store!
I have (very) long been wanting to upgrade to a workhorse straight stitch machine. For months, that meant a Juki. In fact, right up until about a two weeks before the decision was made, it was going to be a Juki! But then I noticed that the Brother straight stitch machine was about $400 (yen equivalent) cheaper than the Juki that had the same features as the Brother. The only difference is that it doesn't have a speed control, and that certainly is not worth $400. For the record, I paid about 90,000 yen, or US$750. And just after I had made that decision, I saw that someone else had made a similar decision! Well, that just made me feel even better about my choice!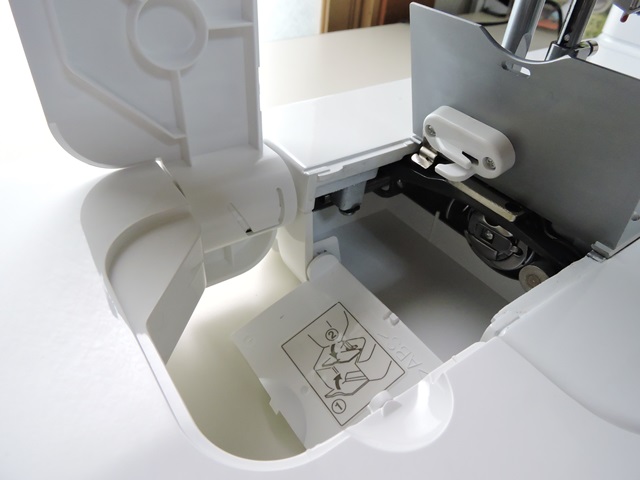 By far my most favourite features are the extension table and needle down option. The thread cutter and knee lift are awesome too, but I've absorbed them into my sewing with barely a second thought. Practically every time I sit down to sew though, I'm still consciously thinking about how happy I am to have the extension table and needle down option! And the neat little doors to access the bobbin and still keep the table attached are just so cool. It's the little things, hey?!
In The Box
Here's a snapshot of what I started off with – the top row came in the box and the bottom is what I bought separately. I had to buy the walking foot and the FMQ darning foot separately, plus I added another bag of bobbins and some needles too as you can never have enough of them!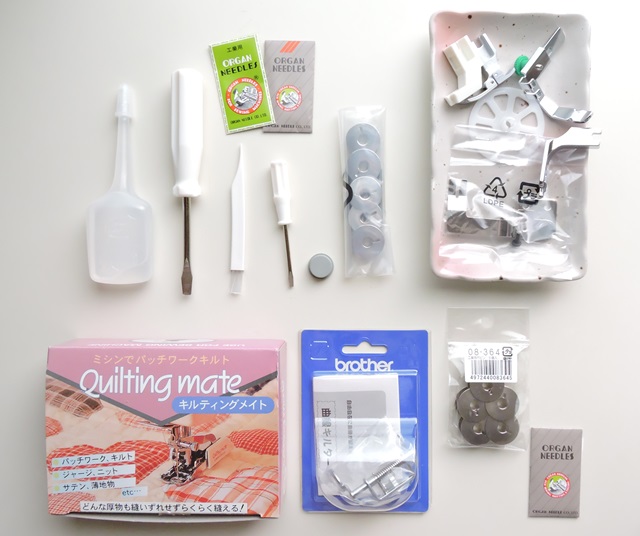 I'm still not 100% sure what each of the feet are for, but I do know that it included a rolled hem foot, a zipper foot, two "normal" feet (on the is slightly smaller than 1/4″ and one that is quite a bit smaller than that), and some kind of seam-guided foot? The Japanese manual only gets me so far… I do love that it came with it's own set of screwdrivers, a brush, and oil! I stole my husband's shaver's brush for my Elna, and had to keep some of the household screwdrivers next to my machine. Now, those can all go back to where they belong!
A few weeks on…
We've had such a wonderful few weeks getting to know each other. I now know the sweet spot on the foot pedal, I automatically press the back stitch and thread cutter buttons without looking, and the knee lift is total second nature to me now. We're in a good rhythm! I've made a complete cot quilt from start to scratch with no issues whatsoever – I straight line quilted with the walking foot, and ohhhh, such a dream! Not a single pucker! I've foundation paper pieced, free-motion quilted the Christmas Star pillow, pieced several quilt blocks… not a single issue. Well, only once, and that was because I hadn't threaded it properly, so that doesn't really count.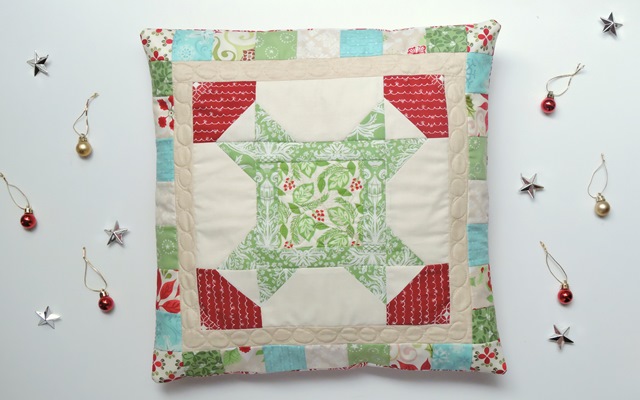 Do I recommend this machine? That would be a 110% heck yes. This beast is a breeze to sew on, a blast to quilt on, and a dream come true for sure! I'm so excited to sew and quilt now. I mean, I was before, but even more so now that it's just so much quicker and easier. I'm even contemplating having a go at making and quilting a king size quilt next year… Something I never would've attempted on the Elna.
Talking of which, my Elna has already been spoken for by a friend here in Japan, for when we move back to Australia in a few months. One heavy sewing machine will take up enough of our luggage allowance as it is! That and as the Brother Nouvelle is only a straight-stitch, I plan on getting a smaller (but better) machine again once we're settled in Australia. One that is lighter/more portable, has a few more stitch options, etc plus to also be a spare and/or kid-friendly. I did occasionally use the zigzag stitch on my Elna, but only ever made two button holes, so I'm thinking more along the lines of decorative stitch options as opposed to the basic options Ellie had. Will that be another Brother? Well, what brand that will be is yet to be determined, and will be decided based on price vs features when the time comes to make a choice. I loved my Elna – she was a true (baby) workhorse, and we did a LOT together – and several good quilty friends swear by their Berninas. So you can pretty much be sure it'll be one of those 3 options. But in the meantime, me and my Beast* are very happy together.
*Beast is the name I'm leaning towards… because the machine sure is a beast. Fierce and strong, and bites too… oh yeah, forgot to mention that bit! Stabbed my finger tip, catching the end of my nail, with the needle while rearrange the fabric as it fed through a few days after purchase! No holes, decent bleeding, no fabric harmed.