Originally designed and published in Fat Quarterly as Christmas ornament gift tags, these quilted Christmas ornaments could certainly double as ornaments to hang in your tree! Finishing at 3″ x 3″, they're pretty darn cute no matter how you use them. Adding the sewn initial personalises them for your recipient, but you could just as easily replace the centre square with a fussy cut print, or even a solid!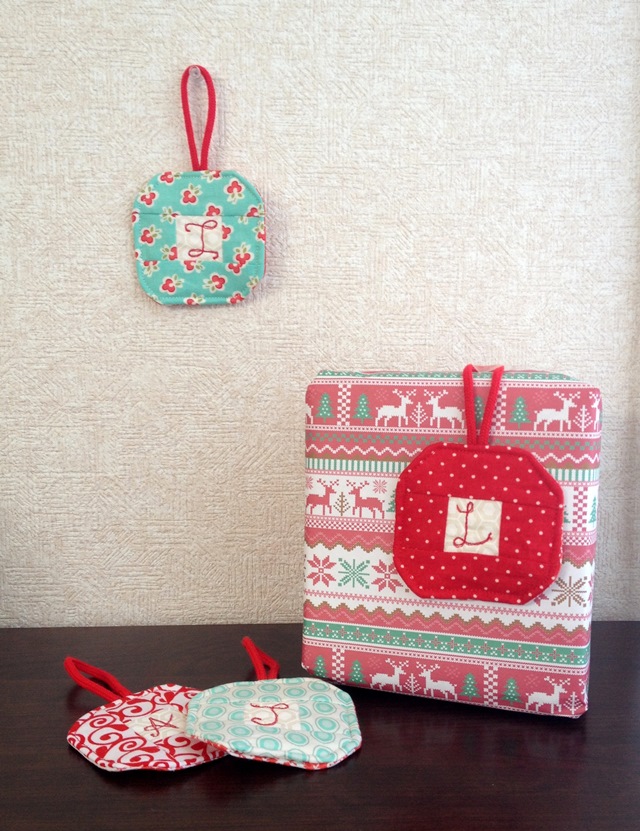 What you'll need
Fabric A
2 – 1.5" x 1.5"
2 – 1.5" x 3.5"
Fabric B
1 – 1.5" x 1.5"
Backing
1 – 4" x 4"
Batting
1 – 4" x 4"
Ruler with a 45° line marking
6" ribbon or drawstring
Embroidery supplies or free-motion quilting foot
Step 1. Sew one Fabric A square to each side of Fabric B. Press towards Fabric A. Sew the Fabric A rectangles to the top of this unit and press seams towards Fabric A.
Step 2. Sandwich your ornament top with the batting only. If you prefer, use a temporary fabric marker to write the initial to trace. Sew the initial using your chosen method – hand- or machine-stitched.
Step 3. Align the 45° line on your ruler along the Fabric B seam lines and the ruler edge 1/4″ from seams and the edge of the ornament as shown below. Trim all four corners.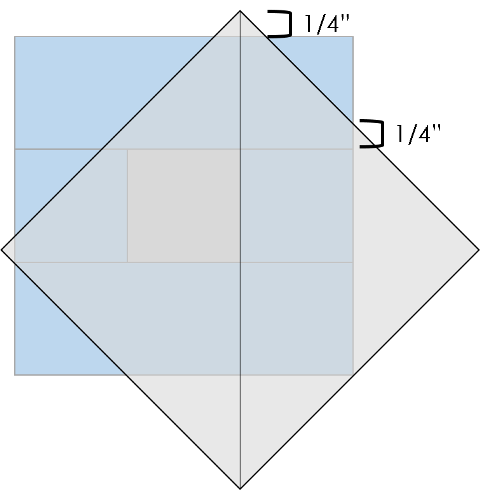 Step 4. Fold your ribbon in half to form a loop. Align it in the centre of the top of your ornament with the majority of the loop on top of the ornament, leaving 1/2″ of the cut end hanging off the edge. Place your backing right-sides together with the ornament top and sew around the outside edge of the ornament top, backstitching over the loop edges and leaving the bottom edge open.
Step 5. Trim the backing to size. Turn the ornament right-sides out (using the loop to help pull it out), fold the open seam in, and top-stitch 1/8" around the outside edge.
You can use the same method to turn any Christmas ornament quilt blocks into an ornament by just cutting the backing and batting to be a little bigger than the quilt block! Or even a single piece of Christmas (or other!) fabric for the front – just cut it to 3.5″ square and align the 45° line on the  ruler at 1 1/4″ from the edges. Or throw Christmas out the window and use whatever colours and prints you like to make adorable personalised gift tags!