While some people describe it as a fun puzzle and others may describe it as a necessary evil, there's no escaping the fact that maths is an integral part of designing quilts. For me, I love the puzzle! And when you add in the other fact that as a trained school teacher, I love teaching, you get my first book – DIY Block Design. DIY Block Design is the culmination of both these passions where I teach you everything you need to know to successfully design and make your own quilt blocks, from inspiration to sketching to cutting to sharing.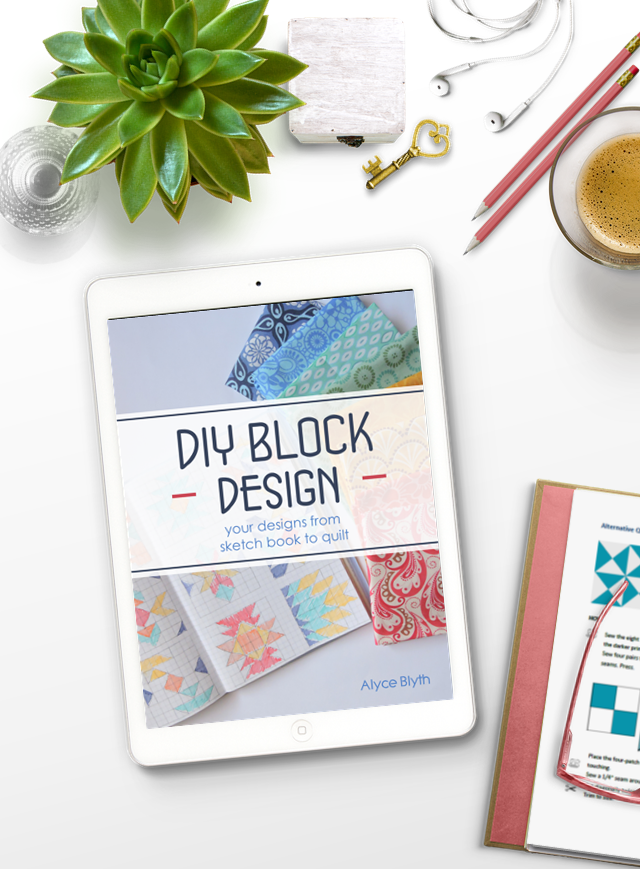 What's the book about?
I can't physically be there to teach you in person, but this is the next best thing! Written in a casual, easy-to-understand manner, DIY Block Design walks you step by step through designing your own quilt blocks. We start by examining the basic structure of quilt blocks, looking at how they're formed so that you can then build your design upon that foundation. We look at the variety of options and methods you can use to construct common patchwork units – half-square triangles, quarter-square triangles and flying geese – and why you might choose one option over another. Plus I've included all the maths charts for every single construction method! Then it's your turn – I guide you through designing your own quilt block from inspiration to finished product.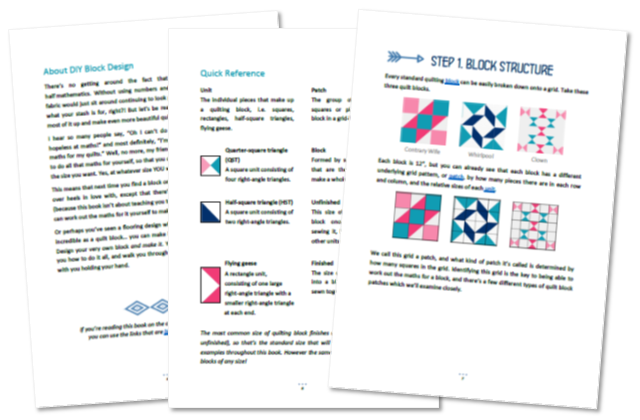 DIY Block Design isn't just about reading and reading. Nope, you're getting involved in it! Scattered through out are practical tasks for you to put the information you've learned into use. Delivered as a PDF, you can print off these pages to write on if you wish! Or just use a notebook or your quilt design sketchbook that you now won't be able to get enough of…
"As a beginning sewing and quilting teacher, I love the way DIY Block Design really demystifies the basics of quilt math and gives anyone the confidence to design their own quilts without the need of expensive and sometimes complicated software! A must-have reference for anyone new or old to quilting who just wants to start creating from their own sketchbook!"

– Melissa Eubanks, blogger and designer, My Fabric Relish
What's new compared to what's already on your blog?
That's a very good question, because I certainly talk a lot about quilt maths! And the answer, other than all my designing tips and tricks? Plenty!
We examine basic block structure with loads of coloured examples using blocks you know and love
Full tutorials and coloured diagrams for constructing common patchwork units, including the four methods of making half-square triangles
I teach you two methods for making quarter-square triangles
Plus two methods for making flying geese too
A maths chart and the formula for each method of constructing each unit – that's eight charts in total!
The step-by-step process I use when designing quilt blocks for you to use too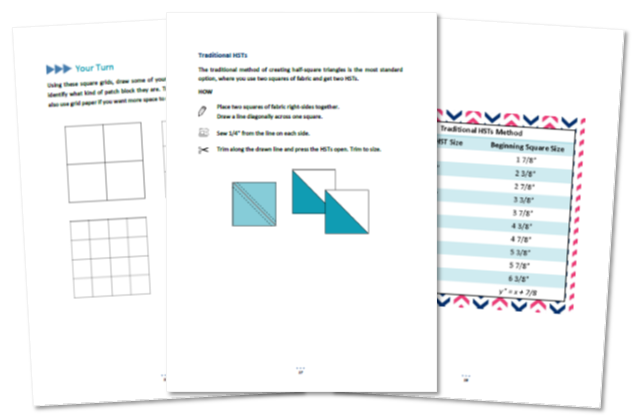 Who should buy this book?
Quilters who want to learn how to design their own quilt blocks for the first time.
Quilt designers who wants some support with the maths involved.
Quilters who want to resize their favourite quilt block tutorials, i.e. The Bee Hive, to meet their needs.
Anyone who's wanting to learn about quilt blocks and how they're built.
Quilters who would like to know other methods (and the maths!) for constructing patchwork units to help shortcut the making of units in patterns, or to make more efficient use of their fabric.
Everyone who's intrigued at what goes into designing quilt blocks.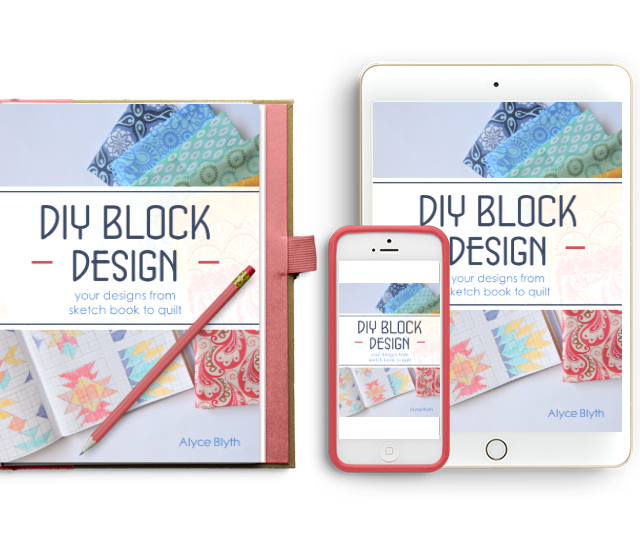 The Official Details
Release date: August 13 – happy birthday to me!
Pages: 39
Format: High-resolution PDF (meaning, the pictures will print beautifully!)
Price: AU$19.99
Pre-order: Now!
"While I love pattern and colour, my love of maths is limited to making sure I don't break the budget at the supermarket. For me, quilt maths is a necessary evil – I can do it, but I don't love it! This is why I love this fabulous little guidebook by Alyce… Next time I'm breaking down a quilt block, it will definitely be with DIY Block Design by my side! Thanks for doing the maths for the rest of us, Alyce!"

– Jane Kelly, Editor of Make Modern
What else is cool about DIY Block Design?
Being an eBook, it has a few little features built into it help make it even easier for you to use!
Because it's a PDF, you can easily view it on all your devices – computer, tablet, smartphones – no matter what brand they are.
Use the hyperlinked Contents page to jump straight to the page or section you want to read.
Click the links throughout the book to go back to the relevant page.
Print off the task pages as often as you like to practice some more.
Each maths chart will print at 6″ x 6″ with a fun little background so you can put them up on display in your sewing room.
And if all of that is not enough to truly whet your appetite, you can even download an excerpt on Craftsy to truly experience what DIY Block Design is all about!
"In this brilliant little book, Alyce Blyth has taken all the guesswork out of quilt math. DIY Block Design is full of practical, detailed guidelines for those who are looking to simplify the process of designing their own quilt blocks. Not only does she give readers the background information needed to get started, but Alyce even provides valuable cutting charts as well as practice pages to build confidence before jumping into the real thing. Best of all, it's done in a warm, approachable way that will appeal to quilters at all skill levels. This book is a gem, and I'll be referring to it often in my own sewing room!"

– Heidi Staples, Author of Sew Organized for the Busy Girl
Pre-ordering DIY Block Design
That's right, just like any published book, you can preorder DIY Block Design right now! In fact, all orders made before August 13 will receive a free copy of both of my HST maths chart printables sent straight to your inbox.

You can order now through Gumroad using your credit card or PayPal, no sign-ups or anything required! Here's how it works:
You will not be charged until the book is released, and as soon as you have made your order, you will receive an email with the details for downloading your free printables. At 12am on August 13 (JST) your account will be charged and you will be emailed with the details for downloading your copy of DIY Block Design!
Just like that – easy, simple, no fuss. If you'd like to know more about the Gumroad process, check out their useful support page for buyers.

DIY Block Design… You CAN do it!