On April 30, I decided to do an experiment for my blog to find out just how many people clicked through from Instagram. Why? Because there's no way to track click-throughs from the blog link in your profile. Instead, it just gets lumped in to the social media referral category in general. To combat this, I created an Instagram landing page – a special page that isn't linked to anywhere else on my blog – and used that link in my Instagram profile, @blossomheartquilts. It's nothing fancy, but it neatly provides all the links people might be clicking across from Instagram to find out more about.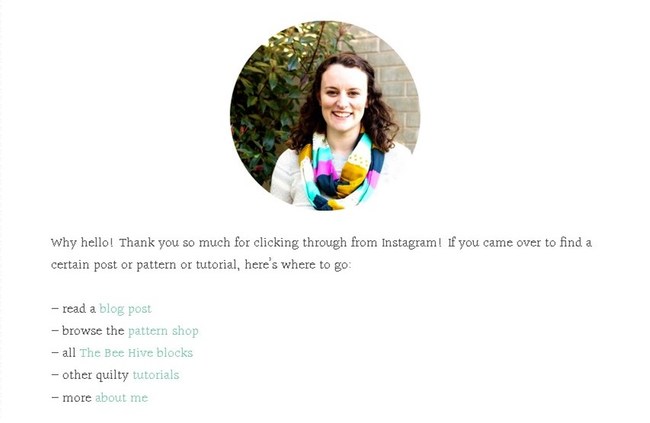 Now when I go to my Google Analytics, I can check the landing pages section to find out what pages people are landing on when they come to my blog. It's under Behavior >> Site Content >> Landing Pages. The most common page is obviously the home page but then it also shows the other pages people have landed on when they've clicked a link to get to my blog (from Pinterest, or Google, or other people's blogs, etc).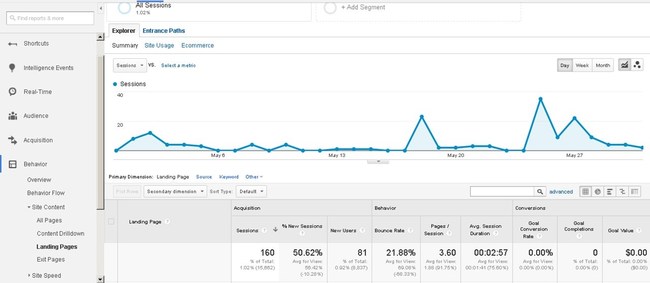 This shows that between April 30 (when I published the page) and May 31, there was 160 click-throughs from Instagram. On average, the visitors visited 3.6 pages and spent 2 minutes and 57 seconds on Blossom Heart Quilts.
It's also interesting to see the spikes in traffic and when they occurred. It could be that someone has tagged me on Instagram and directed people to click through to find something, like a quilt block tutorial for The Bee Hive, or it could have been a photo that I shared and directed people to click through to the blog in the caption. But here's what I shared on those days, which would indicate that it was because of what I had posted.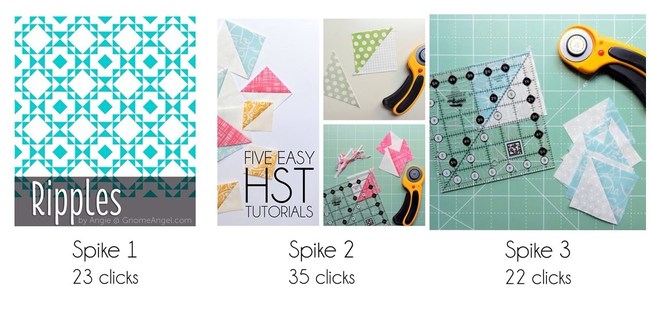 On the day of the first spike, I shared a photo of the Ripples quilt design and included the comment, "Link in profile". On the day of the second spike, I shared a photo from my Five Easy HST Tutorials post, and again directed people to follow the link in my profile. The final spike was the day when I shared a photo of the 8 HSTs at a time tutorial – this time I didn't explicitly mention to follow the link in my profile, but the spike would indicate that people still did click through.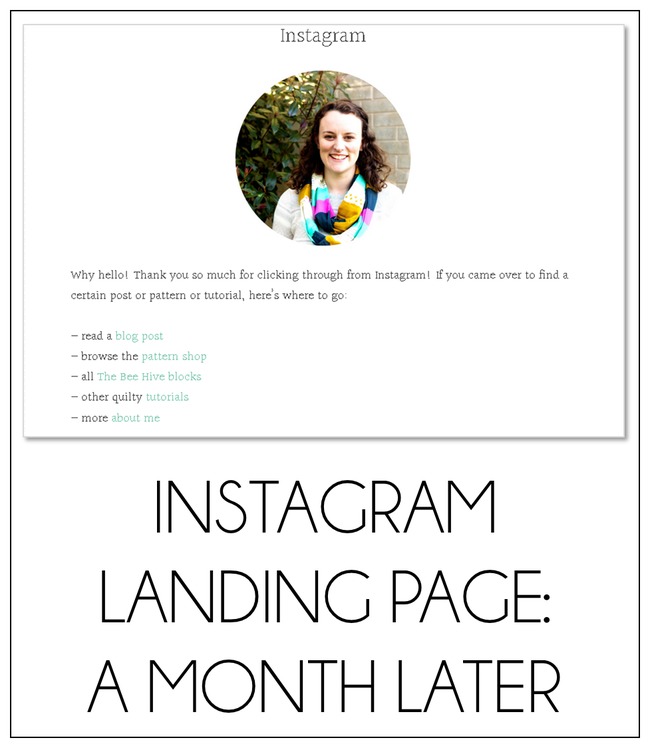 Instagram is definitely not my biggest source of traffic by a long shot (that honour goes to Pinterest), but after just the first month, the stats would suggest that it is still useful to use as a place to share your blog posts. I would not suggest to constantly use it as a way to advertise your blog, because the Instagram audience is much more suited to the casual, daily, candid shots, but used wisely, it will definitely bring readers to your blog.