Today's guest host is a lovely lady whom I refer to as my alternate-universe twin… you'll soon see why…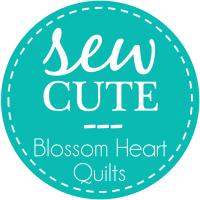 Hi guys, I'm your host for this week's "Sew Cute Tuesday". My name is Alice and I blog at Blossom Quilts. Sounds* familiar? I created my blog about a year ago and came across Alyce from Blossom Heart Quilt after few months of blog existence. Luckily Alyce is a great person and she didn't mind that I sounded so similar to her. In the blogosphere, people often confused our two names but I don't mind, she is the famous one!
*I feel the very big need to point something out here – my name is NOT pronounced like Alice, it's Ah-lease. Again, she's my alternate-universe twin.
To be honest with you I haven't been in front of my sewing machine for a while now, and my blog also lacks recent updates. That's because I'm currently growing my first mini human and this takes a lot of my energy! I didn't expect that, especially for the first trimester where nothing is really visible. I'm now starting my second trimester and I can feel my energy level coming up day after day. So, no doubt I will start sewing and blogging again very soon. I'm just wondering what project to start for my little one. I'm curious to hear from your sewing project while you where pregnant. It will give me some inspiration.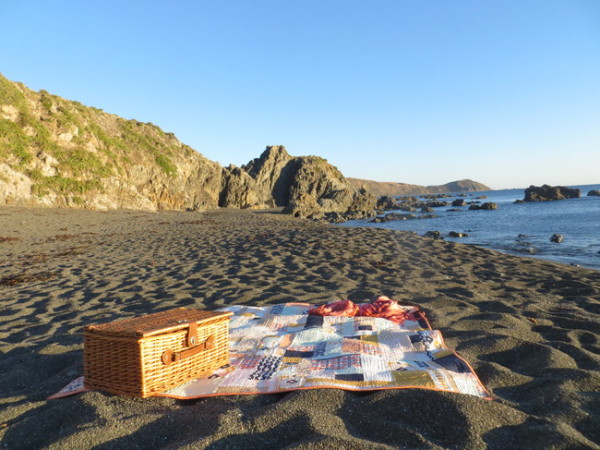 On the picture above, you can see my "Arizona" quilt. You can notice that quilts for me are meant to be used on daily activities and not hidden away somewhere in a closet. This was a special pic-nic as it was when I announced to my husband that I was pregnant. He was over the moon.
My husband and I are both French and after living in Australia (3 years) and England (2 years), we came to New-Zealand about a year ago. I love this country, the scenery is breathtaking. The quilting community is also very active here and I registered to my first quilting guild and went to my first quilting festival. I also met some lovely local quilters like Wendy from "Wendy Quilt's and More" and Adrianne from "On the Windy Side". Before coming to NZ, I wasn't quilting much, so this gig is still pretty much new to me. Nevertheless, I realised 13 quilts last year alone and I have been drawn lately to try FMQ. I still love my first attempt at FMQ, this is my "Meadow Brick Wall" quilt, every "brick" has a different design.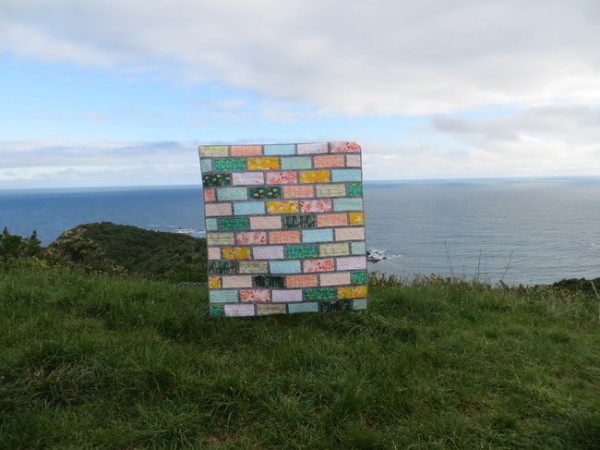 Last year, I also registered to be part of a Round Robin. I have an amazing group (the "Possum Magic" gang) and the quilts that are being produced are spectacular. It's always very intimidating to receive a quilt to add a border to. The last border on this quilt top is my contribution to Serena's quilt.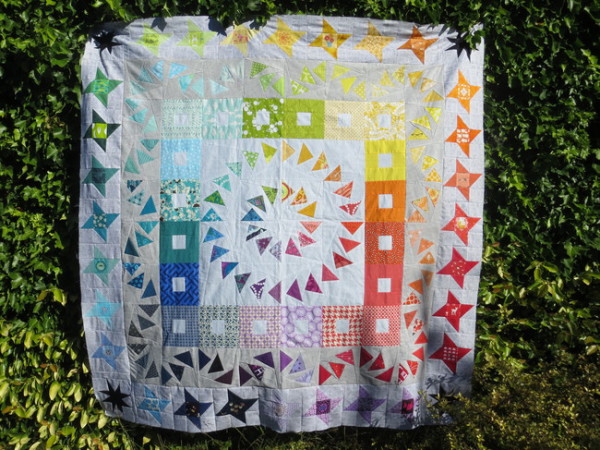 Now it's time to share with us your latest projects – stitching, sewing, finished or progress – and don't forget you can link directly to an Instagram pic instead if you like, using #sewcutetuesday and @blossomheartquilts aaaaand @blossomquilts to help us all find you over there too.
Loading InLinkz ...