Being an expat, you have this ability to perceive things about your home country in a much more objective way. When you're removed from the immediate situation, you are able to see things from a perspective you never considered before. I could go on about the cultural and societal aspects of Australia that I love and hate, especially compared to Japan, particularly…
I love our healthcare system – Japan has a similar one that is even cheaper than Australian healthcare prices and that we are also able to access, even though we are only temporary residents.
I love the multiculturalism – as one of the handful of "white" people in our local area, I am frequently aware of being the odd one out, of the stares, of being watched and subconsciously judged as an example of all foreigners. While Australia has its moments and its racist morons, it is a multicoloured land where just because you look different or dress different, does not make you stand out like a sore thumb. One of my fondest memories of Australia Day as a kid was going to a nearby council's celebration that was a multicultural festival full of food and art and dancing from cultures around the world. THAT is Australia Day for me!
But Angie has challenged me to think about what it means to be an Australian quilter, or more accurately, a quilter in Australia. And there a few things that immediately came to mind that I want to discuss.
Fabric
I was just saying to a friend the other day that I have essentially become used to the amazing fabric available locally here in Japan; I kind of take it for granted. Until I participate in discussions online about the lack of quality, reasonably-priced fabric in Australia. There are some amazing local studios that produce beautiful handprinted fabric, but at $20+ per metre, it's not accessible for "normal use". When I last visited Spotlight (our version of Joann's), it was pretty depressing in terms of range and service! But it seems like things might slowly be changing – the latest being Koi by Rashida Coleman-Hale now available! And purchasing most modern, designer fabric is around $25 per metre from a local quilt store. I won't get into the whole local/online shop debate, that's not my point today. Instead, I want to recognise that sourcing quality fabrics is a challenge for Australian quilters. We invest a lot of money into our hobby/business, and I am definitely grateful that I have been able to supplement my "Western" stashing with a lot of great Japanese fabrics to help bulk it up cheaply. Something I would not have been able to do from Australia.
It has also been so exciting to see some modern Australian fabrics and designers emerge onto the world stage with Emma Jean Jansen and her Terra Australis ranges, and Jen Kingwell (a fellow expat!) now designing for Moda. Sarah Fielke has continued to develop as a fabric designer, now signed on with Windham Fabrics, and I hope that these ladies are just the start of successful and worldwide-recognised Australian designers.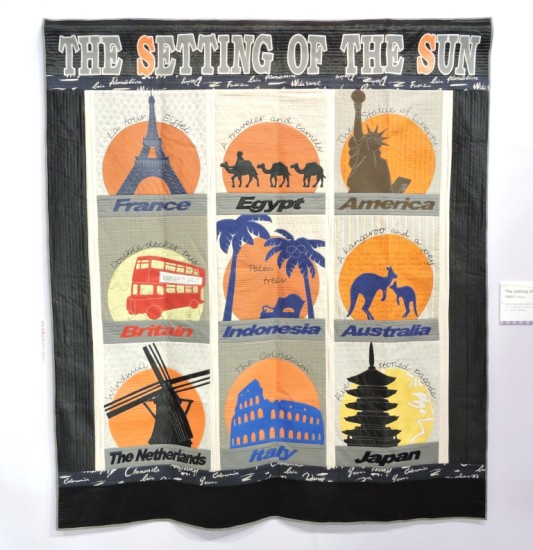 The Setting Of The Sun quilt seen at Tokyo Quilt Festival 2015
Community
I have been involved in the online Aussie quilting community for about 4 years now, and in that time, I have seen the "modern" quilting community really blossom. I am immeasurably excited at being able to meet a whole bunch of them at QuiltCon next month! And upon my return next year, one of my dreams is to be a part of continuing to see the "modern" quilting grow even closer, whether that's through introducing new people to quilting via teaching classes or helping organise retreats or sewing days. I want to see this amazing group of people grow and develop!
And at the same time, to not thus invoke feelings or perceived notions that we are somehow in competition with the "traditional" quilting community in Australia. We are all quilters. We all love fabric, we love cutting it up and sewing it back together. Our colour preferences may differ, our blocks may be bigger or smaller or even non-existent, but under that, we all bleed red (if we don't use colour catchers).
Small But Mighty
Australia has a population of only 23.3 million. That's less than 10% of USA, two thirds that of Canada, and just over a third of the UK. And so presumably, our quilting population is proportionally smaller. But boy are we a strong bunch! Our pond might be small, but our fish are big and colourful and talented! I am so incredibly proud of all that Australian quilters have achieved on par with those around the world. The aforementioned fabric designers, quilters hanging at major quilt shows around the world, like this beauty by Patricia Reid at the Yokohama Quilt Week in 2013.
So today for Australia Day, I am so proud to be an Australian, and particularly an Australian quilter. I will be sewing and blogging while listening to Triple J's Hottest 100 online, before eating my rice and karaage lunch… Aussie Aussie Aussie!
You can see what other Aussie quilters have to say about all this today too!
Click the following links to find out more: