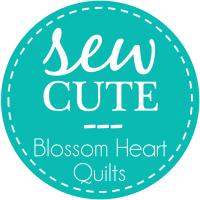 I have been MADLY quilting as much as my body allows this past week. I have done more pebbles that I have ever done before, and boy do my shoulders know it! They are hard work on big quilts, but so worth it. I had hoped to get my Bright Sky quilt done by yesterday's linky post, but I want this quilting to be perfect, so I'm still at it. Although I can happily report that the pebbles are done!
Then next on the list is to make the Daphne bag from the latest Perfect Pattern Parcel! Jennie asked if I would be willing to make and blog about the latest Clover & Violet pattern, and as it was the perfect design for what I was wanting to make for QuiltCon, I couldn't say yes fast enough!! This pattern is the bonus pattern that you get if you choose to pay $32 or above for the pattern bundle. If you don't know about Perfect Pattern Parcel, here's what they have to say…
How Pattern Parcel Works:
Here at Perfect Pattern Parcel, we believe in supporting independent pattern designers. It's our opinion that indie patterns are just, well, better than big box patterns, and we're pretty sure our customers think so too. So, we allow customers to show their support in naming their own price for each Parcel.  We also encourage customers to allocate part of their Parcel price to the charity Donorschoose.org in order to help classrooms in need. Pattern Parcel donates all profits after expenses from Parcel sales to the charity as well. Its our goal to raise over $20,000 for Donors Choose this year.
I will be sharing my bag on Sunday, and I'm so excited to get stuck into it! I bought the final supplies I needed today and am poweing hard through Bright Sky so I can start on the bag!
Now, onto Sew Cute Tuesday! You guys love your precuts just as much as I do! Yay precuts!!
Keera made this stunning Round And Round quilt from her Bonnie & Camille charm swap bundle. She wasn't sure about the navy, but I think it's fabulous!
Chelsea made this stunning quilt as a pattern tester. Such a sweet pattern!
Now, I don't know if Kelly used precuts for this, but it looks like it could work with layer cakes and I just couldn't not share the beautiful colours and design of this quilt!!
And now onto this week's projects!! Link up your latest sewing post – WIPs, blocks, finishes, stitchings – we love them all! Be sure to link back, check out other blogs and even share your projects on Instagram using #sewcutetuesday as you can link directly from there too!
Loading InLinkz ...