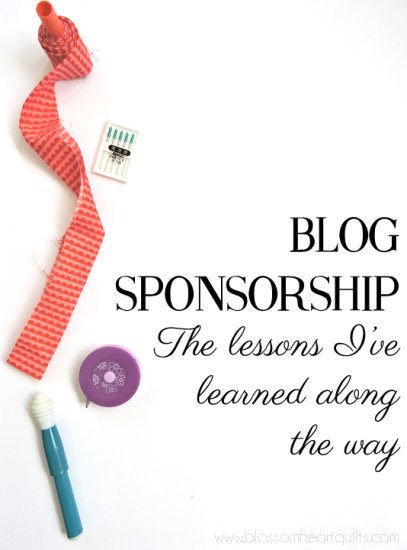 It's no secret that I love blogging. I love telling the stories, I love reading other peoples' stories. I love learning and engaging and interacting. I love the ability and potential of blogs to help with the "business of quilting". But blogging takes time, and money. Last year, I moved to WordPress to get access to better blogging tools to help improve my blogging and the blog itself. But using self-hosted WordPress costs – a server to host all my files, having my own domain name… these are fees that I have to pay each year. Even the simpler things like Sew Cute Tuesday costs money to use the photo thumbnail linky! All of these things I am willing to pay to make my blog better, easier for me to use, and more fun for you guys as readers. So from the financial side of things, blog sponsorship is a great way to help cover the costs associated with running a blog like I do. But also, because I value myself as a blogger.
From the community-side of things, I also love working with blog sponsors to help engage with the online quilting community. Whether it's giveaways, or quilt along prizes or fun competitions, I enjoy exploring what our business relationship can do for you guys!
It is also really rewarding for me to be able to work with small businesses to help promote what amazing work they're doing. I believe in supporting the little guys that have something good going on. The Pattern Jam design contest was one such situation – Emily approached me to tell me about her website, and when I explored what it could do, I knew this was something that need to be shared! You guys then went on to create some amazing designs and provide brilliant feedback to Emily that she really taken on board and is working with to improve her quilt design website.
Media Kit-ted Up
My journey with blog sponsorship started when I knew that I wanted to take my blog "to the next level". I had dabbled for long enough, and I knew that I wanted to make this blog something that was literally worth my time that I spent on it. I also knew that I was wanting to move to WordPress eventually and was aware of the costs that would be involved. The first step I did was to write up a media kit. A media kit is a document that you send to sponsors that is basically your blogging CV. In a media kit, you list your stats, any press (ie. publications), what kinds of things make you unique and what you can offer sponsors for their investment in you and your blog.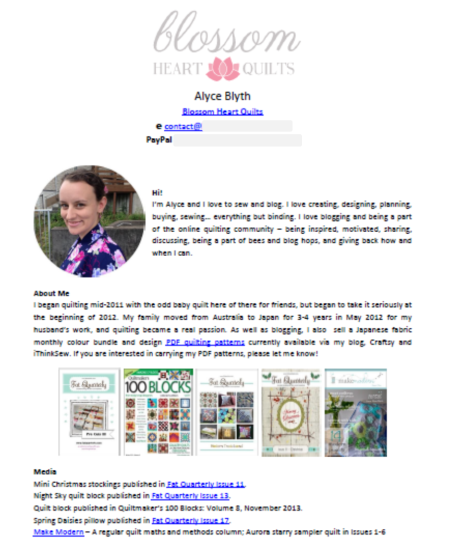 Once I had this done up and saved as a PDF, I then sent it out to my first online fabric shop – Fat Quarter Shop. I had seen them a lot around the blogosphere and so I knew they were interested in working with a wide range of blogs. Yes, it is very scary putting yourself out there for the first time! But it paid off, because they quickly signed up as my first blog sponsor! Since then, I've had a variety of blog sponsors – both shops that I have approached myself and those that have approached me, plus a couple of affiliates too. Sidenote – yes, affiliates as a source of blogging income can work out well if you put in the effort to market them well within posts and not just leave the ad languishing in your sidebar.
The M Word
One of the biggest questions people have when it comes to setting up blog sponsorship is money. How much?! There are tons of websites with formulas and tips and such, but our niche is special – our blogs are very focused on sewing/quilting and the kinds of businesses that would sponsor our blogs are very limited, as is the potential advertising budget from the small businesses that invest in blog sponsoring. For similar page views and unique visitors, some websites suggested I should charge at least $200 per month! That would certainly be awesome, but definitely much too high. Instead, I checked out the Sponsor pages of some of the big-name quilt bloggers to see if they provided any useful information, and while most don't release that information upfront, those that did ranged from about $25-$50 per month.
The other thing to take into consideration is the size of the ads you offer. I decided to offer three different sizes – 250×250, 125×250, 125×125 – with prices starting at $15 per month, with a discount for paying three months at a time. Why? Because this meant there were options for any advertising budget.
What's On Offer
It is very rare that a sponsor will be happy to just use your website as a billboard. The point of sponsoring a blog is to get their name and business seen by people, and there a wide range of ways in which to do so! The most common would definitely be giveaways and sponsor posts (a round up of what's on offer at stores), with competitions and sponsored posts (reviewing products, patterns, etc where the shop provides the goods or pays extra to post) also highly popular.
I try to engage with my sponsors beyond just giveaways because it seems the blogosphere is a little giveaway weary these days (much lower entry rates across the board, even if with very simple "comment to win" posts), and I rarely do a sponsor post because honestly? How many people actually read those?! In fact, I actually share more "sponsor news" on Facebook than I do here and have definitely had better results from doing that. That's why you'll usually find these kinds of things integrated as a part of content that I would totally be happy to do anyway – like sharing new products by having a week of free quilting tutorials using them designed by bloggers around the world, having a giveaway of a prize relevant to the quilt I just finished, or launch prizes for QALs that provide the winner with the fabric needed to sew along.
It's important to note that what each blogger does with and for their sponsors will differ. And that's ok! You need to work out what you are personally comfortable with, and even enjoy doing. Because while there is definitely the aspect of "do it because it's your job", it's also something that you need to at least be very good at pretending to enjoy! If you aren't enthusiastic about what you're writing about, why would your readers?
Further Information
The Blog Maven has a very good guide of what to include in a media kit, plus a wide range of examples of actual bloggers' media kits.
I have loads of great information about all sorts of blogging tips and tricks on my Blogging Pinterest board. Or join the Quilty Bloggers and Instagrammers Support Group on Facebook to "talk business" with others in our niche!
The other posts in this series:
– Valuing Yourself As A Blogger
– What Blog Sponsors Are Really Looking For
– Blog Sponsorship: Your Stories and Thoughts