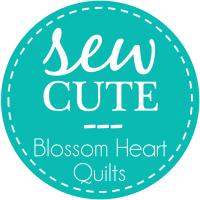 This a bit of a special Sew Cute Tuesday! For those who follow me on Instagram (@blossomheartquilts), you will have seen my busy weekend of quilting in all its stages from basting on Friday to binding on Monday. And now I can finally share the whole quilt with you!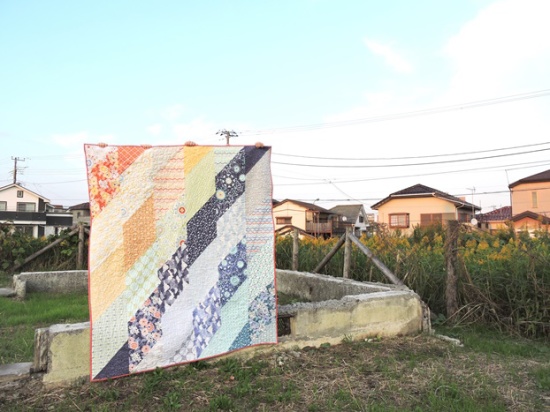 Ladies and gentlemen, may I present After The Rain – a fat eighth friendly quilt pattern using Sunnyside by Kate Spain. This is the latest of the free patterns from the Fat Quarter Shop called Fat Eighth Frenzy. It's been designed to showcase the individual diagonal rows – the pattern suggests alternating light and dark prints. I decided to showcase the rainbow effect of Sunnyside, roughly alternating the lower and higher saturation prints in order.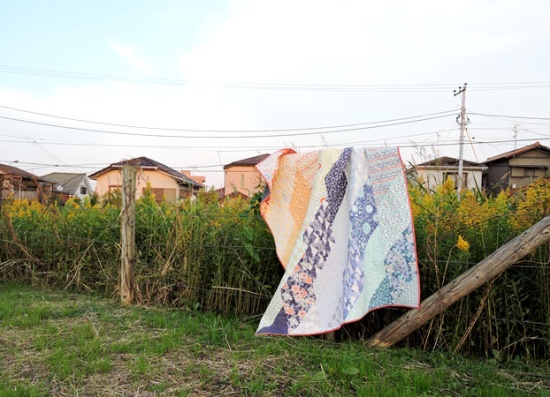 From the start, this quilt was for my son's bed, so I chose 3 different fat eighth bundles that would work for this pattern for him to choose from. And he chose Sunnyside! Oh that made this Kate-Spain-aholic heart so proud! I then spent a good couple of nights playing around with the layout, trying to balance the prints and working out which direction I wanted the colours to run, and so on. It then took just an afternoon to sew it all up, as these things usually do – more time spent on fabric arranging than sewing! My shopping trip to Nippori was also perfect timed for shopping for a backing, with this 60″ wide Ruby Star Polka Dot print the perfect size.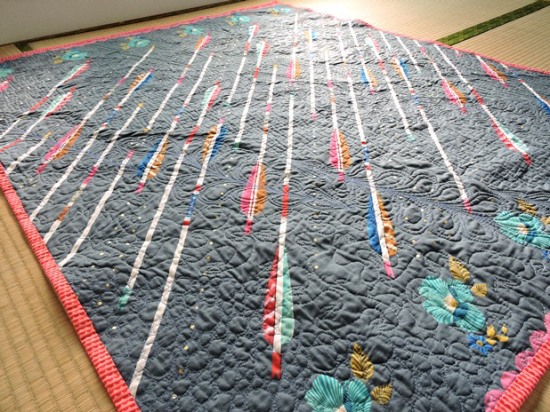 I also knew from the start that I wanted to use this opportunity to quilt different designs for each colour. Between my rainbow toolbox of Aurifil and happening upon the perfect Mettler locally to fill in the gaps for the navy and darker and lighter teal prints, I was good to go.
I'll admit it was a bit of a challenge to think up ideas that I could both finish quickly and also fill up the varying lengths of space I had. I also wanted to try and alternate tighter and lighter free motion quilting patterns to really add some contrast between the rows. I started from the centre with some of my "classics" with navy swirls and variegated light blue #3770 square maze quilting. The royal blue #1128 practically shimmers on the backing to show off the feathers reaching out from the centre of the mid-blue row! Some loopy "Doctor Who bow ties" (aka butterflies or bows) fill in the light teal, and pebbles for the darker teal. The final triangle was also the light teal Mettler and some quick and loose zigzag quilting.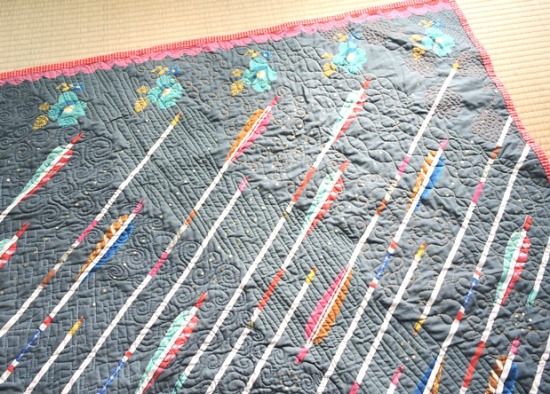 To contrast the navy swirls, I went with some straight lines looping their way back and forth across the light green prints in #5017. The saturated yellow prints got some light loopy "stippling" in #2145 and the lighter yellow prints have intersecting wavy lines in a variegated 3920 – I had trouble trying to make these even widths and lengths, and is definitely my least favourite FMQ pattern!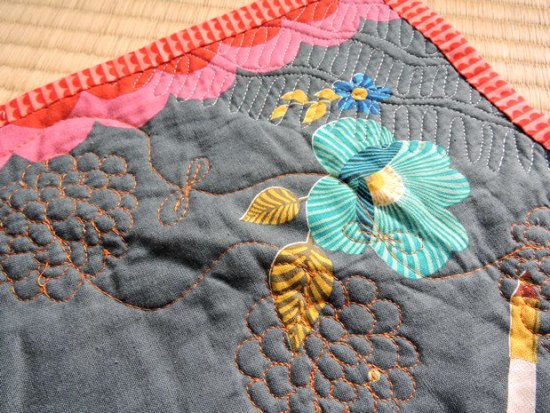 The last two rows are definitely my favourite – #2235 orange chrysanthemums and light grey 2600 finished off the quilt with this design I found on Pinterest. I definitely want to experiment more with that kind of quilting, but it is very hard to do on anything too big given that I use a tiny Elna and don't have any extension table of any sort to support the rest of the quilt! I think a cushion with rows to play on will be very high on my personal/for fun sewing list next year…
As always, the Fat Quarter Shop have produced a video to accompany this free fat eighth pattern. And as you can imagine, this quilt has some rather large HST scraps left over, for which they have a bonus pattern to use those up too! You'll end up with a gorgeous baby-sized bonus quilt!
*****Giveaway Now Closed*****
Winner – Samantha
The Fat Quarter Shop would like to help you make your own Fat Eighth Frenzy quilt by offering one of you a fat eighth bundle! Simply go choose which fat eighth bundle you'd like and leave it in a comment! You can also stock up on your supply of bundles with 20% off all fat eighth bundles this week. Those who link up for the weekly Sew Cute Tuesday party will get a bonus entry!
Giveaway closes 9am (JST) Friday 31st October. Winner will be chosen by random.org and announced on this post and contacted by email.
And so, that Sew Cute Tuesday linky! Normally I would share 3 linkers' work from the previous week, but this post is long enough, so let's just get to business. Link up your latest sewing project – hand, machine, quilt, garment, enter the giveaway and then go check out the beautiful work other people have made! Don't forget you can link up via Instagram – just click on that option on the next screen and tag your photos #sewcutetuesday so we can find them on Instagram too!
Loading InLinkz ...