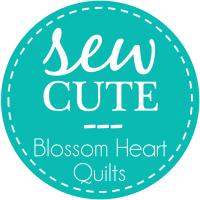 Hello fellow Sew Cute-ers! It's been a fun quilty week around here with a trip to Nippori Fabric Town with Ms Midge last week! We bought up quite the haul, well, for us anyway. We've had some comments that we were quite restrained, and yes, yes we were! We both have reached that point of only tending to buy fabric with a purpose in mind – her due to a small sewing room and me needing to keep my stash small for when it comes time to ship everything back to Australia! Although I did realise that the quilt for which the Melody Miller arrows is backing, will actually fit its length along the full width of the fabric, thus saving at least 12″ of fabric – every inch counts!
Last week, Wendy shared her border for the Possum Magic round robin quilting bee. I can't wait to participate in a bee like this when I'm back in Australia (and thus much lower postage costs!).
Lori has been working on these string blocks that would be a lot of fun to play around with block rotation!
And how about these wonky pinwheels by Francine?! I love the way varied backgrounds from bee blocks can really add that "modern" aesthetic… however you want to classify that!
Note – next week's linky will go up a bit later in the day due to the project I'm sharing and needing to be shared in US timezone!
Now it's time to link up this week's sewing projects! Your latest finish or WIP or sewing room update… we love checking it all out! And don't forget you can even link up a photo directly from Instagram! And tag it #sewcutetuesday so we can find it there too.
Loading InLinkz ...