As you read this, I'm currently away at a spa and water park resort in Fukushima! My husband has a work conference here, so I decided to rough it out with the kids for a couple of days playing around… after all, his room was already paid for and there's a free shuttle bus to and from the resort. So, you know, hard life… In the meantime, the last Sew Cute Tuesday summer guest host is ready to take it away!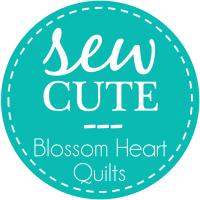 Hello readers of Blossom Heart Quilts! I?m Michelle, the crafty gal behind From Bolt to Beauty, and I'm stepping in for Alyce today on Sew Cute Tuesday. When I'm not chasing after two little monkey boys, I'm usually behind my sewing machine. These days, I most often refer to myself as a quilter, but I also dabble in sewing bags, pillows, and other home-dec projects.
There are two quilts on my current WIP list. The first, my Birds of My Neighborhood quilt, is a modern take on the traditional disappearing nine-patch. I love the tomato red and aqua of the color palette. Of course, I would love this project even more if it were quilted and bound!
The second quilt started with a challenge: could I use up some fabrics that had been languishing in my stash? The result is a simple patchwork with a color palette that pushes me out of my comfort zone. (But oh, how that Kona Cardinal makes my quilty little heart sing!) This is my first donation quilt. It's not something you'd see on a couch in my house; I have great faith, though, that it will find itself in the hands of just-the-right recipient.
I'll be wrapping these quilts up soon. Visit me at From Bolt to Beauty to see the final products!
Now on to the real business at hand: Sew Cute Tuesday. Last week's link party, as usual, featured an amazing array of handmade goodness. The first link that caught my eye was Good Golly Ginger's Sand Drift block, which offers a little lesson in color theory. I'm drawn to the use of complementary colors here. I think I need to try the purple and yellow combination sooner rather than later?
Then I was struck by Ms. Midge's Super Tote. I have the same pattern on my sewing table, waiting to be made. The fabric combination in this Super Tote might be the inspiration I need to get started on my own rendition!

And finally, the fabric bins made by Sew Giving are so sweet. I've been meaning to tackle some bins or baskets. I could put these three to good use around my house…

Now it's time for you to link up your projects from the past week! If you are on Instagram, you can share by using the hashtag #sewcutetuesday.
Loading InLinkz ...