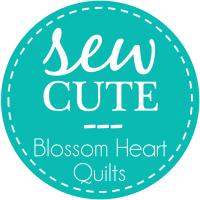 Hi Everyone! My name is Bernie and I write over at Needle and Foot. I am so happy to be able to help Alyce out this week while she is on a well-deserved break from her Sew Cute Tuesday link-up. I have been sewing for about 40 years (yikes! how can that be??) and quilting regularly for about three years now. ?I like both modern and traditional quilting but probably lean slightly to the modern side. I just started my blog and love becoming a part of this amazing quilting community. Hope you will stop by sometime for a visit.
The past week was a busy one and I didn't spend lots of time at the sewing machine. I did however manage to finish a baby quilt that I have been working on. I posted about it earlier here. I am so pleased with the final result! The colors are adorable and overall it is a sweet little quilt that will, hopefully, make some new mama out there very happy. I did five inch squares on point with white sashing. I also appliqued a heart to one of the squares on the front and then did a pieced backing with three more appliqued hearts. Love these accents!
The print that I used for the backing was leftover from another project. ?I can't remember the name of it but I love the floral print. They look like hydrangea blossoms to me but who knows??
I quilted it on my machine with a large, loose stipple. It was a breeze to quilt up. Then bound it with a dark purple piece.
Just had some labels made and tucked one at the bottom edge.
 Looking through the projects that were linked to Sew Cute Tuesday last week was great fun. So much creativity in this community!
Take a look at this gorgeous quilt by Dreamworthy Quilts. A modern take on dresdens (which are one of my favorites – modern or traditional). The pieced border is absolutely gorgeous.
Another piece that caught my eye was this floral, raw edged applique posted by Run 'n Stitch. Gorgeous work and if you click through to this post you will find a great tutorial showing how she made this. Very cool.
Let's look at one more. Here is an adorable zippered travel bag made by The Crafty Nomad. I love the applique. It made me smile. I really liked the details in the applique, the ribbon accents and its general uniqueness.
Well, what have all of you been working on this week? Link up and show off your stuff!! Don't forget you can share via Instagram and link it up here too. Just use the #sewcutetuesday hashtag so we can see it over there too!
Loading InLinkz ...