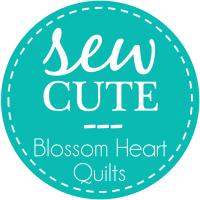 This week is the last Tuesday of the month, which means it's time to announce May's special theme! You guys rocked the Stars theme this month, so let's see what you've got in terms of… Purple! Oh yes, I know, purple is one of those colours that you either love or hate, and to be honest, for a long time I was closer to the hate side, but seeing all the incredible Radiant Orchid-inspired projects this year has really helped me come around to it! Yes it's still the least-represented colour in my stash, but I can still admire it! So next week for the first Tuesday of the month, along with your one weekly post, bring along a bonus purple post for a grand total of two links to share with us all!
Last week, Melissa shared her new/old sewing machine and a gorgeously refurbished sewing table. I LOVE white cupboards topped with a dark wood, so I am totally drooling over this!
Another Melissa was lucky enough to work with Sarak Fielke's new line, Enchanted, and whipped up this beautiful bag. That focal print is so beautiful – I fell in love with colourful peacocks after Kate Spain's Cuzco, and Sarah is continuing to feed this love! Not to mention the supporting flower motifs are a really interesting set of shapes and colours!
Jane made these great iPad and iPhone stands – I could do with one myself, what a great idea!
It's time to link up your (1) weekly post! And I will see you and your purples posts next week!
Loading InLinkz ...