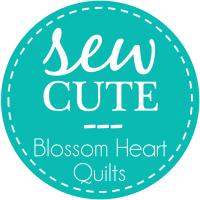 It's that time of the week! My previous machine issues have started up again, so my sewing has been small this week.
But I did manage to get my commissioned nursery set finished! Just awaiting a sunny day to photograph it all properly. But I'm very happy with it all, including my first appliqueing since high school.
Lisa in Port Hope made this incredible bee block – I've had some fiddly bee blocks to make, but nothing like this! That's one brave Queen Bee!
Melissa from My Fabric Relish made this amazing version of my Fairy Tale Castle pattern! Just look at those appliqued clouds!
Katie from Good Golly Ginger made 3 beautiful party skirts for her daughters and their friend. I always loved the full and flouncy skirts when I was a little girl!
Time to link-up your projects from the past week!
– Sewing projects only (that includes crochet, knitting and anything with fabric and thread!)
– Link to the actual blog post, not just your blog URL, ie. http://www.blossomheartquilts.com/2013/10/sew-cute-tuesday/ and not http://www.blossomheartquilts.com. The linky will not allow direct URLs like that.
– Please be sure to visit a couple other blogs in the link-up and give them some love.
– Link back to my blog and help spread the word about Sew Cute Tuesday – you can grab the brand new button from the sidebar!