Diane at From Blank Pages is a talented designer with a couple dozen beautiful paper pieced designs, some of which you win if you link up each month with some Easy As ABC QAL blocks! Diane has just released her first full quilt pattern – Grandma's Lawn Chair, and to celebrate, I've joined her blog hop to share it around and tell you about it.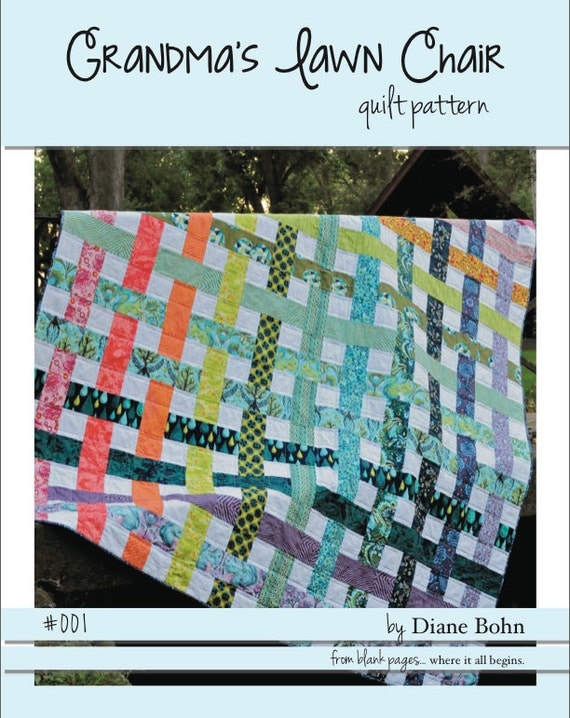 It's a fabulous 15-page pattern full of tips and suggestions and instructions to make your very own quilt in either a baby, toddler or lap size quilt, including how to successfully use directional prints or different cuts of fabric (from fat eighths to yardage). It's also full of colourful, clear illustrations to help us visual learners, plus just like mine, a colouring page to help decide fabric placement! It's very quick to chain piece, and you can definitely adapt the size to suit your needs – use a jelly roll, or add more rows or columns. I chose to make the baby size for 100 Quilts For Kids, but it turned out to be an emotional make…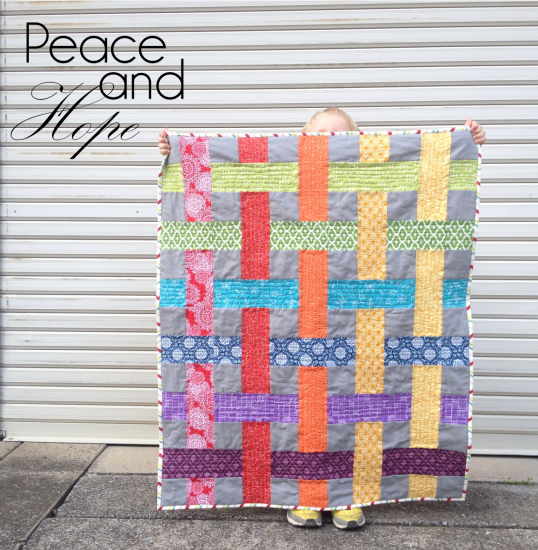 I started this quilt last week, with the plan to add it to the pile of baby quilts to be sent to friends in Kenya to be used at their hospital which I'm slowly adding to so as to send a bunch at once. Then over the weekend, the terrible terrorist attack at Westgate mall in Nairobi happened – only a couple of hours from their house and a place they frequent often. To be finishing this quilt off while knowing the horror was still happening so close to my friends and the hospital was a very emotional time. When sewing things for others, I will pray for the recipient as I go. This time, all I could pray was for peace and hope to be restored. So instead of waiting until I have several baby quilts (which will still take some time!), I will be sending this one as soon as possible. I just can't not.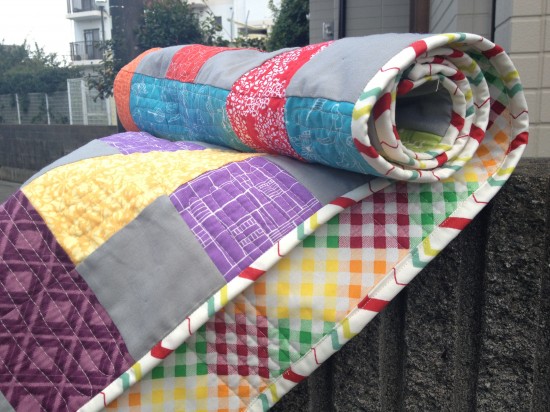 Back to the quilt and blog hop… this was such a fun quilt to make! I knew as soon as I got the email and saw Diane's baby rainbow quilt version, that I wanted to make a rainbow one too. I chose warm colours for the verticals, and cool colours for the horizontals, and it was actually the first time I experienced the joy of having a small-but-well-rounded stash to pull the perfect prints from! I can thank the Color Me Happy club at Sew Lux Fabric for a big part of this, forcing me to stash colours I don't usually buy. Included in the mix is Summersville Spring, Cuzco, Sun Prints, Comma, Brrr, Simply Color and Simply Style, Apple Jacks and Hullabaloo binding. I had a metre of this Parklife gingham from Spotlight stashed from two years ago – can you get anymore perfect that a multi-coloured weave print long stashed away for a backing?!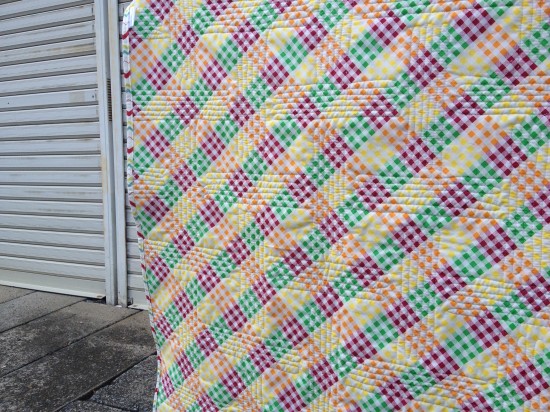 I started out doing big loopy FMQ across the cool rows, then long scribble back and forth on the warm rows, before deciding the loops were all wrong and picking it all out to repeat the long scribbles back and forth. I briefly thought about leaving it because "it's just a charity quilt" but then I mentally slapped myself – if anything, it should be my best! Of course, I spent more time unpicking than I did re-quilting and machine binding it!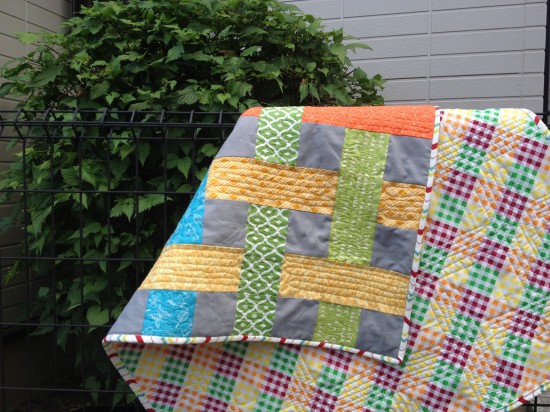 Diane has provided a free PDF copy of the pattern for one lucky reader! Just use the Rafflecopter widget to enter and one random winner will be announced on Saturday 28th September.
UPDATE: You must click Enter on the Rafflecopter widget as well as comment to be entered! Rafflecopter will randomly pick a winner from those who have clicked Enter on the widget.
You can also enter another giveaway that includes some fabric at Diane's blog, or buy the pattern now for 10% off* from Craftsy or Etsy!
*no coupon necessary, until the end of the blog hop