This week I tackled my Sweet Pouch Swap pouch. I made the panels, and then decided what pattern to use – the Triangle Patchwork Box Pouch from Patchwork Please. Just obviously without the triangles and using my panels instead.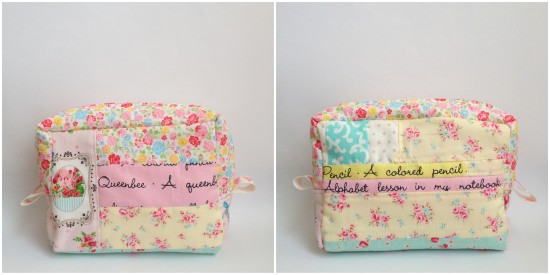 I hadn't tackled such a "3D" pouch before, but having made the Super Tote, I thought I could do it. I picked out sweet Japanese fabrics and did a little fussy cutting. The pencils are Patchwork Please-inspired!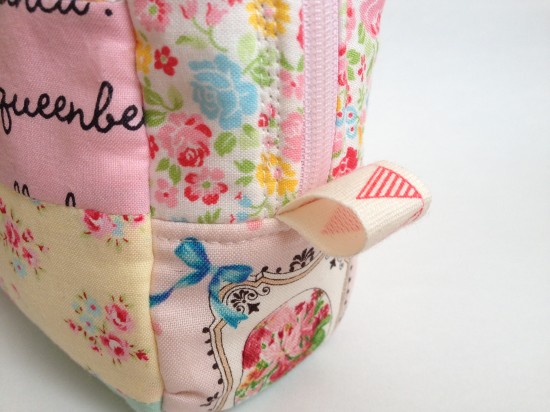 I chose adorable bunting ribbon to use on the sides.
And the perfect shade of pink for the zipper. I started sewing it all together, so happy with how it was going.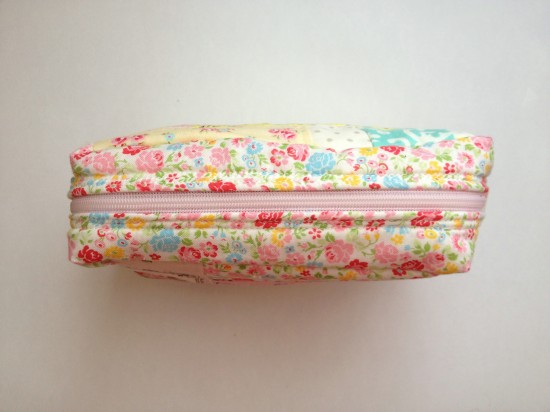 Until I used the wrong pieces, irreparably, for the top panel, throwing out all measurements, and botched up sewing all the external panels together. Which meant that while sewing all the lining bits together worked well, it was too big and is now all loose and floppy inside. Sweet Pouch Fail.
So, what would I do different next time, and what should you do should you attempt it?
– Read the whole thing twice or even thrice – the instructions are hard to follow in between the diagrams and requires quite a brain work out to bend your mind around the instructions.
– Don't use fluffy batting – I used scrap cotton batting which had gotten a bit fluffy. Good support but still a soft structure, except it meant there was no way I could unpick anything because fluff went everywhere and just pulled apart. The instructions say to use fusible batting, which I don't have on hand. Next time I would try a mid-weight interfacing for support and some flannel for squishy factor.
– Pin, pin, pin – take 5 minutes to go all the way around pinning and getting it all prepped ready to sew, making sure all your marked middle points meet and the corners are ready to go.
– Treat the corners like you would for mitred corners on binding – I learned this while sewing the lining together, which was too late for the external, but now I know for next time! At each corner sew to 1/4″ from the edge, stop and pivot to sew 45 degrees to the corner. Lift the needle and clip the thread. Fold the fabric on that 45 degree line and lay the unsewn strip back down in line with the edge and put your needle down 1/4″ in from the corner, aiming for the spot where you stopped and pivoted:

I really would like to try and make this correctly sometime, but not for this swap. I need some more personal practice, I think. But I now have a super sweet pencil case for my Frixion collection that has been needing a new, bigger case for quite a while now! So it wasn't a total lost cause.
Linking up to TGIFF!