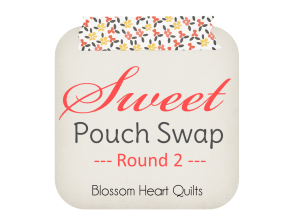 The Sweet Pouch Swap is officially open for deliciousness! This fabulous swap dreamed up by Ros of Sew Delicious involves the making of adorable pouches, the filling of said pouches with local sweet delicacies of the chocolatey and sugary kind, and the sending of the adorable, delicious pouches to an excited partner.
This swap is an open swap. This means that I will randomly assign you into pairs and send your details to each other so that you can email and directly contact your partner. This means you can ask them further questions about their likes and dislikes, communicate about postage details, and then easily email a thank you note once you have received your adorable, delicious pouch!
These adorable pouches do not just have to be zippered. The last round of this swap also saw drawstring bags and clutches winging their way around the world! So if zippers scare you, then fear not, you can still join in on the fun! I will be sharing a few tutorials tomorrow from around the web – both for technical skills and also for some creative design ideas. You can also check out the Sweet Pouch Swap Pinterest board and the Flickr group for more ideas.
Talking of Flickr, please make sure you're connected to my blog or the Flickr group so that you can keep up to date with important announcements along the way. You can follow via Bloglovin', Feedly, Facebook or email to get post updates.
The swap is limited to 100 participants, so get in quick! Once the swap fills up, I will update this post and remove the form. Partners will be assigned by Friday August 2nd at the latest, and then it's up to you! Please have your delicious pouches in the mail by Friday August 23rd, and if life happens as it sometimes does, please let me and your partner know whether there'll be a short delay or if you need to pull out. There is also a box to check if you are willing to be a swap angel – this means that you are willing to make an extra pouch of sweet treats to send to someone who has not received a pouch for whatever reason.
Let the games begin – use the form below to sign up! Ros will be sharing a post on how to reduce postage weight if that is a concern for you, so I really recommend signing up for swapping internationally! After all, INTERNATIONAL SWEET TREATS!
Sign ups are all full! Thanks for the crazy interest – partners will be allocated ASAP!